188 Miles - about 6 hours
A drive from Moab, UT to Monument Valley offers some of the most spectacular scenery in the southwest. On this drive you will see unique rock formations, natural wonders and take a white-knuckle drive on a gravel road with switchbacks and breathtaking views. Bring your camera and hang on!
Here are some highlights along the way.
Moab, Utah
(Starting Point)
The route begins in Moab and heads south on US-Hwy 191.
La Sal Junction
(Mile 31)
Nearby are three interesting rock formations,
Looking Glass Rock,
Wilson's Arch and Church Rock. All three offer great photo opportunities.
Natural Bridges National Monument
(Mile 110)
A few miles south, take UT-Hwy 95 to
Natural Bridges National Monument.
Here there are three natural bridges that are easily accessible for viewing via short hikes. For serious hikers, there are trails that allow for up-close inspection.
Mokee Dugway
(Mile 130)
Turn on UT Hwy 261 and note the "warning" signs along the road! Soon you come to a sign that says '1100 foot drop next 3 miles'. This is the
Mokee Dugway
, a gravel road with a series of switch-backs that can be challenging for the faint-hearted. The view from the top of Cedar Mesa is beautiful and there are several pullouts for taking photos and calming nerves.
Goosenecks State Park
(mile 145)
Utah Hwy 316 takes you to
Goosenecks State Park,
one of America's best examples of an entrenched river meander (tightly curving bends). There are excellent views of the San Juan river located 1000 feet below as it meanders for 6 miles and gains only about 1.5 mile of distance.
Mexican Hat, Utah
(Mile 170)
Nearby is
Mexican Hat Rock,
a rock formation that gives the town its name. Take the short drive to the rock for a good photo opportunity.
Monument Valley, Utah
(Mile 188)
The route ends at spectacular Monument Valley. On the way in be sure to stop at mile marker 16 on US Hwy 163 and take a
Forrest Gump Photo.
More views and stops along this route can be found in this route by
Road Hawk that goes from Monument Valley north to Blanding, Utah.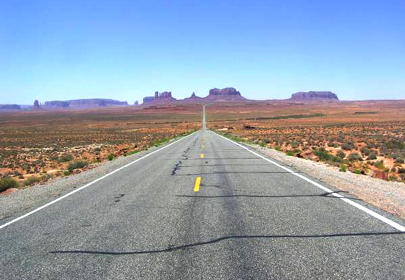 Forrest Gump View of Monument Valley.