120 miles, about 4-6 hours
Starting in the incomparable Monument Valley, this route leads to a twisted river, a twisted road, several natural bridges and even some Anasazi ruins. The route presented is one of the best of the 'old west' still to be found in Utah. It finishes with thrills and views from the very twisty cliff-side driving experience on the Mokee Dugway, a three-mile gravel trail known for its series of hairpin switchbacks.
Monument Valley
(Starting Point)
The trading post and restaurant at Goulding's Lodge just outside the park is a good place to pick up some locally-prepared Navajo bread. And there's a great museum documenting the role of Hollywood in Monument Valley over the years.
Goosenecks State Reserve
(mile 32)
Goosenecks State Reserve offers an incredible view as the San Juan River snakes around horseshoe bends, flowing five miles to cover only one linear mile of the desert. The park is largely undeveloped, although it does have basic restrooms and picnic tables. It's a great place to experience the vast beauty of Monument Valley in silence and solitude. Bring water and wear a hat -- there's not much natural shade.
The Mokee Dugway
(Mile 44)
Approaching the Mokee Dugway from below, it may look like the road dead-ends at the cliff, however, the gravel roadway does climb gradually through a series of hairpin turns to the summit 1,100 feet above. The parking area at the scenic view at the top overlooks the Valley of The Gods, and on clear days the spires and rock formations from Monument Valley are visible to the south. Southwest Dave's video in a RV! (Alternative spelling of this fun road!)
Natural Bridges National Monument
(mile 78)
Natural Bridges
is a series of three stone bridges cut into a limestone canyon when streams cut through the canyon they now bridge. The only good way to view these is to hike down into the canyon, hike along the stream bed and then ascend again further along. Bring hiking shoes and plenty of water.
Comb Ridge
(mile 95)
This 80-mile long ridge of sandstone runs on a north-south axis. It is stunningly beautiful, and there are several Anasazi ruins near it. The pass where UT-Hwy 91 bisects
Comb Ridge
diagonally, has it has been used in several car commercials.
Blanding, Utah
(mile 120)
Blanding is considered the southern terminus for visitors to Eastern Utah attractions. It is a nice place to stop for the night, since it has facilities for camping as well as several motels and restaurants.
Another version of this route can be found in this one
that ends in Monument Valley and written by Jerry Kendrick.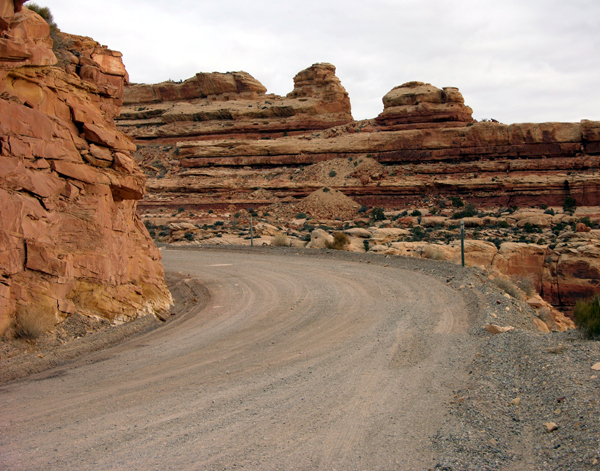 The Mokee Dugway road has many twists and turns,
the best views are just around the corner....

Photo by Mark Sedenquist