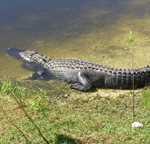 195 miles. Allow 5 to 7 hours
A trip along the Tamiami Trail (US 41) starts in the upscale suburban neighborhoods of Naples, proceeds into Everglades National Park and ends in the vibrant density of urban Miami. Along this old route you can see the smallest post office in the U.S., amazing numbers of alligators and big birds, some beautiful wetlands, and a national park that's mostly under water.
Here are a few highlights to look out for along the way.
Naples, FL.
(Starting Point)
The route begins in
Naples,
Florida, the crown jewel of southwest Florida and then heads southeast.
Ochopee, FL
(Mile 37)
Ochopee, FL is home to the
smallest Post Office in the US,
a postage-stamp size (really closet-sized) 7' x 8' former irrigation shed that still provides mail services for three Florida counties.
Big Cypress National Preserve
(Mile 50)
The Oasis Visitor Center
at Big Cypress National Preserve is located right on the Tamiami Trail and has many live alligators and other interesting exhibits.
Everglades National Park - Shark Valley
(Mile 70)
Shark Valley
you can take a
Tram Tour
and climb to the top of the observation tower for a bird's eye view of the "river of grass".
Everglades National Park – Ernest Coe Visitor Center
(Mile 140)
The
Ernest Coe Visitor Center
features several popular hiking trails that take you through some beautiful scenery and up-close and personal with alligators, big birds and other wildlife.
Biscayne National Park
(Mile 160)
Biscayne National Park.
With 95% of the park underwater, it is a boating, fishing and snorkeling paradise with
tours
available through concessionaires. Land based activities can be found at the Dante Fascell Visitor Center located at Convey Point. From Convey Point it is about 35 miles to Miami.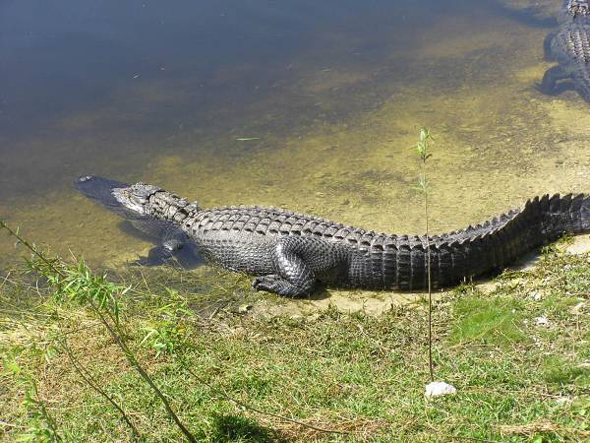 A Big Gator Sunning