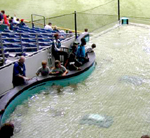 105 miles and 4 hours
This is not a road trip through rural Florida. The route is easy to follow, but be prepared for the traffic. The surprise is the beauty and scenery along the way. This part of Florida is known for its white sand beaches, while professional baseball games attract many visitors. Even the circus comes to town on this route. Remember events in Florida are seasonal, so check ahead.
Here are a few highlights along this route:
Tampa, Florida (
starting point)
Start this route at Tampa International Airport, right around the corner from Interstate 275, where you will be heading south on your journey. The New York Yankees hold spring training games in Tampa as part of the
Florida Grapefruit League.
St. Petersburg
(mile 27)
What a view, crossing the bridge over Tampa Bay. Coming up on your left is Tropicana Field. Yes, the
Tampa Bay Rays
play ball in St. Petersburg. The domed ball park with all its amenities, including a ray petting pool, is a treat to enjoy, even if you aren't crazy about baseball. Shopping, restaurants and parks are also a part of St. Petersburg's appeal.
Longboat Key/St. Armands Key
(mile 68)
Longboat Key
is one of the prettiest parts of Florida and offers travelers an array of activities. Besides the pretty white sand beaches, the area is probably best known for St. Armands Circle, where shoppers from across the United States and abroad come to shop along the quaint circle famous for its boutiques and specialty shops. Stop by the beaches.
Sarasota
(mile 70)
The Greatest Show on Earth - Ringling Brothers & Barnum and Bailey – long ago stopped making Sarasota its winter quarters. But the circus is still a big part of Sarasota with the
Ringling Museum of Art
, a magnificent venue, filled with history of the circus and
Circus Sarasota
, a five-star international circus, performing in Sarasota. For baseball fans, Baltimore Orioles hold spring training in Sarasota.
Venice
(mile 105)
Beaches, shopping, fishing and great restaurants beckon the traveler to spend some time just riding around this fascinating community. Florida's
Venice
greets visitors with its
Venetian Waterway Park
, located along the Intracoastal Waterway, a perfect spot for a picnic or a nice jog after a road trip.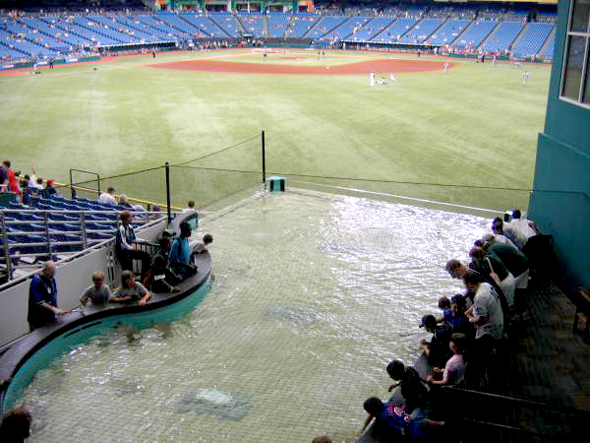 Pet the rays at Tropicana Field,
home of the Tampa Bay Rays.
Photo by Anne Sponholtz