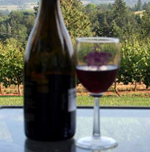 50 miles, about 3 to 5 hours
Willamette Valley Wine Country is less than an hour's drive from Portland via I-5 South. Note: Willamette is pronounced "wih-lam-it" (rhymes with dammit) and folks around there are sensitive about saying it right. Picture rolling hills carpeted with vineyards in varying stages of growth. Pace yourself. There are more than 100 artisan wineries and intimate tasting rooms only minutes apart in Yamhill County. So many wines, so little time.
Here are a few highlights to look out for along the way:
Portland
(starting point)
Before hitting the road, stock up on road reads at Powell City of Books. Stop and smell the roses at the International Rose Test Garden and tease your taste buds with razor clams at Jake's Famous Crawfish Restaurants.
Find Hotels and Motels Near Portland
Wine Country Farm
(32 mile)
Reminiscent of a French country villa, Wine Country Farm is a bed-and-breakfast inn, working winery and Arabian horse farm. Owner Joan Davenport is well-traveled and colorful. Take the tour or linger awhile. There are five wineries within walking distance of Wine Country Farm. No designated driver needed. Friendly resident border collies often escort tasting treks between Domaine Drouhin, Domaine Serene, Vista Hills, White Rose and Winter's Hill.
(Update May 2022: The Wine Country Farm appears to be permanently closed.)
Note: Many Willamette Valley wineries are closed on Sundays and Mondays. Here are two stand-outs that are open seven days a week.
Torii Mor Winery
(37 mile)
Raise a toast and bang the gong for good luck in the Japanese Garden at
Torii Mor Winery and Olson Estate Vineyard
.
De Ponte Cellars
(38 mile)
Meet quintessential French winemaker Isabella Dutartre at
De Ponte Cellars
in Dundee Hills. Linger on the shady second floor veranda savoring views and the estate's excellent pinot noir.
Evergreen Aviation Museum
(49 mile)
The impressive
Evergreen Aviation Museum
is tucked away in unassuming little McMinnville off Highway 18. The legendary Howard Hughes Spruce Goose Flying Boat takes center stage surrounded by scores of notable aircraft and exhibits that span aviation history. Adjacent buildings house space exhibits and an IMAX theatre.
McMinnville Airport
(50 mile)
The ultimate grand finale, catch the currents and soar over vineyards by glider with
Cascade Soaring
at McMinnville Airport.
Find Hotels and Motels Near McMinnville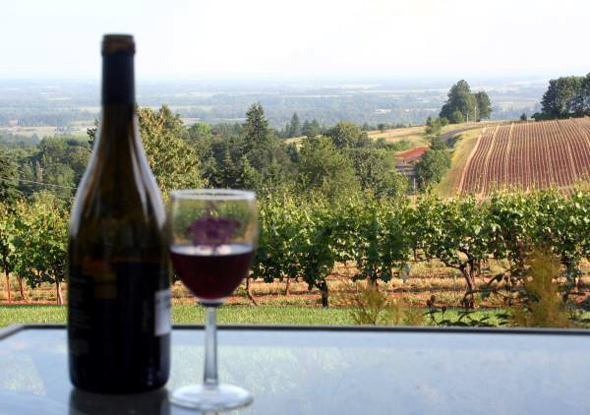 Reminiscent of the Burgundy region in France,
rolling hillsides are carpeted with vineyards and more
than 100 wineries are waiting in Yamhill County..