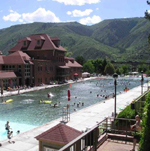 168 miles – 3-4 hours
You'll get into hot water along this section of Colorado's Hot Mineral Springs Trail, a spectacular smooth-cruising drive along I-70 through the spectacular Rocky Mountains, home of the world's largest outdoor hot-mineral-springs swimming pool. Stunning mountains, rivers, canyons and skies of dramatic diversity await you. And there's something en route for everyone, solo explorers to family road warriors! Sit back, relax and enjoy the adventure!
Here are a few highlights to look out for along the way:
Buffalo Bill Museum and Grave
, Genesee Park, Golden (mile 19/I-70 exit 252)
Continental Divide breezes blow across this historic Pony Express mail deliverer, skilled buffalo hunter and U.S. Army Indian scout's Lookout Mountain grave with Great Plains views. Roadside buffalo herd, gift shop and buffalo burger diner make this a thrilling
American Wild West-icon stop
for everyone.
Find Hotels and Motels Near Golden
Idaho (Hot) Springs
(mile 38, I-70 exit 241A)
Slather on a do-it-yourself mud bath at frontier-era
Indian Hot Springs
with 200-tropical-foliage-domed geothermal swimming pool and historic Native American cave baths. There's whitewater rafting, gold mine tour, Colorado brewery and mountain-style pizza like you've never had. Pat the huge buffalo at the Buffalo Restaurant.
Georgetown
(mile 50, I-70 exit 228)
Climb aboard
Georgetown Loop Railroad's old-time steam locomotive
for a spectacular canyon gander past gold and silver mines. Gateway to breathtaking old-wagon-era Guanella Pass, downtown Georgetown-Silver Plume National Historic Landmark District has one of the nation's largest concentrations of over 200 Victorian buildings.
Minturn
(mile 111, I-70 exit 171)
Cruise Rockies Scenic Highway 24 alongside picturesque Eagle River into this tucked-away, quaint, historic-railroad town with charm galore: a
namesake saloon
with outdoor waterside-dining, award-winning family
Turntable Restaurant
, green chili, and local shops. Popular local-skiers' winter alternative to pricier Vail.
Hanging Lake Trail
(mile 161, exit 109)
Take a hike shortly before reaching Glenwood Springs and check out the two amazing waterfalls on this popular
Glenwood Canyon hiking trail
.
Glenwood Springs
(mile 168, 1-70 exit 116)
End here, cradled inside
Glenwood Canyon
, at the two-city-block-long, outdoor
hot-mineral-springs swimming pool
, Iceland's Blue Lagoon rival. Then go underground in Yampah Vapor Cave's Japanese-style steam bath chambers before surfacing mountaintop via gondola at Caverns Adventure Park for breathtaking canyon views—and an easy hike down.
Find Hotels and Motels Near Glenwood Springs
To see more of Kathryn Brockman's photos from this route,
click here.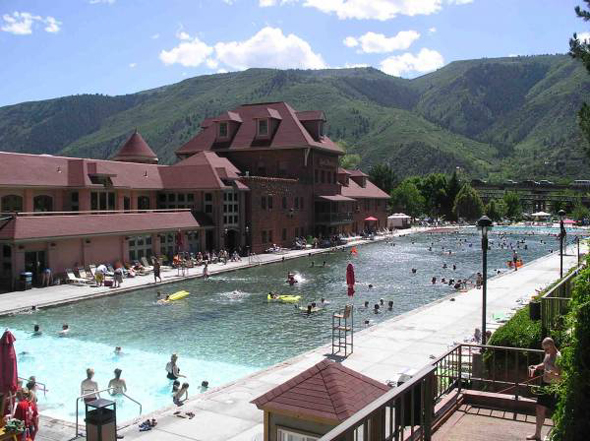 Two-city blocks long, the world's largest outdoor
geothermal swimming pool in Glenwood Springs
is surrounded by huge Glenwood Canyon.