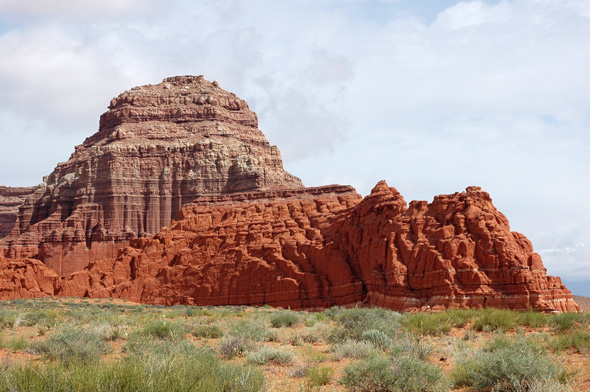 68 miles, 3 hours
Follow this scenic route from just north of the Bullfrog marina on Lake Powell in the Glen Canyon National Recreation Area through portions of Capitol Reef National Park and Grand Staircase-Escalante National Monument land to Boulder, Utah. Includes stunning, panoramic views of geologic features like the Henry Mountains, Circle Cliffs and Long Canyon plus drive along a portion of the historic Burr Trail, which switchbacks 1000 feet up through the Waterpocket Fold. (ADVISORY: Check conditions at the visitor center in Bull Frog or in Boulder before driving; not advised if raining or a recent storm. The portion of the road through Capitol Reef National Park is not paved and can be treacherous if wet; other sections may flood. Fuel available in Bullfrog and Boulder. Take water.)
Here are a few highlights to look out for along the way:
Bullfrog Marina at Lake Powell in Glen Canyon National Recreation Area
Mile zero begins at the junction of the Burr Trail and Utah Highway 276, but drive a few miles further to the Visitor Center where you can check conditions of the road and obtain a guide. (Also, see
online guide
. Check your fuel gauge. Services are available at Bullfrog but not along the route.
Optional hike at Pedestal Alley
(mile 5)
Pick up a guide at the visitor center in Bullfrog. Park about five miles from the junction in the parking area for the three-mile Pedestal Alley hike to see interesting pedestal formations and take photos. No shade. Spring and fall are the best times to hike. Bring water.
Optional hike into Surprise Canyon in the Waterpocket Fold
(mile 29)
You will begin seeing views of the colorful, uplifted layers of the Waterpocket Fold after you enter Capitol Reef National Park. The trailhead at approximately mile 38 is a good place to park and hike into Surprise Canyon, a narrow canyon in the Waterpocket Fold. Allow an extra hour or two.
Top of the switchbacks
(mile 33)
Pull over for excellent views of the five peaks of the Henry Mountains, laccoliths formed when magma pushed overlying sedimentary rock up into a dome, and distant red mesas and buttes of Glen Canyon National Recreation Area.. Additional hiking and a picnic area can be found up here.
Long Canyon
(mile 55)
The Burr Trail descends through colorful Long Canyon enclosed by sheer walls of Wingate sandstone towering hundreds of feet above the road.
Boulder, Utah
(mile 67)
The Burr Trail ends at Utah Highway 12 in
Boulder.
Just to the north is
Anasazi State Park Museum
located at the Coombs site, one of the largest Ancestral Puebloan communities west of the Colorado River. See artifacts in the museum and walk around the Coombs site.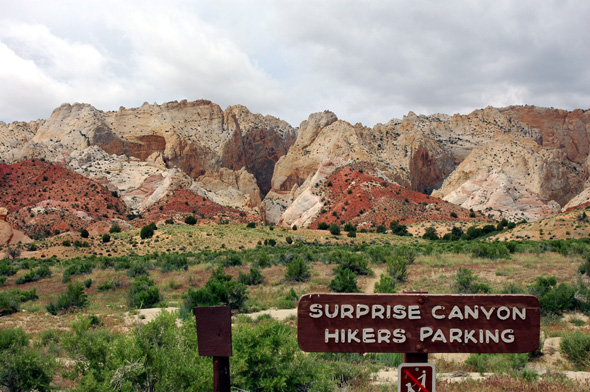 Park and hike into the Waterpocket Fold at Surprise Canyon. Allow an extra hour or so.
Photo by Jaimie Bruzenak