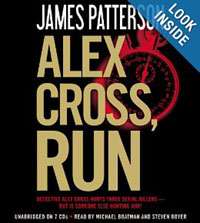 When Alex Cross and John Sampson raid a wild sex party complete with drugs, alcohol and underage girls hosted by the esteemed Washington plastic surgeon, Dr. Elijah Creem, they stir up a hornet's nest that threatens to destroy Alex and everyone he loves. Refusing Creem's attempted bribe he earns the honor of becoming the powerful and vindictive doctor's sworn enemy. Alex has bigger problems, though, because two women and a man are found to have died in bizarre circumstances, and it appears that three serial killers are operating at the same time in Washington. One of the victims appears to have given birth, but the newborn is missing, so Alex's race to find her killer is fueled by his concern for the missing infant. It is soon evident to the reader that two of the killers are Creem and his demented friend, Josh, who are killing for sport and for each other's entertainment in a "Can you top this" game, but it takes a while for Alex to make the connection. As if the responsibility of catching three serial killers weren't enough, Alex's reputation is being sabotaged by a blogger who publishes negative comments about him. It is not only his reputation that is in danger, though. Someone is stalking Alex and his family, taking him out professionally before he commits his final act of vengeance of killing him.
Patterson's villains are terrifyingly convincing. Ron Guidice is evil-personified, the kind of character you'd like to see suffer the most unimaginable pain for the suffering he inflicts on his victims. The sociopath is a master of psychological as well as physical torture. As usual, Alex Cross charms readers with his love for his family and his determination to capture killers while seeking justice for their victims. Patterson's plot is also superb in this book. The cases, while separate, intertwine in a way that is believable and satisfying. He deftly spins the action in the closing scenes to provide a plot twist that leaves the reader stunned, but intrigued.
Michael Boatman and Steven Boyer's audio interpretation of this excellent book is perfect for the subject matter and characters. They vary the pitch and the pace in such a manner that the criminals seem to be more sinister and the innocent seem to be more virtuous. This book is highly recommended for anyone wanting a fast-paced, well plotted mystery with despicable villains and a likeable hero.
Alex Cross, Run by James Patterson
Read by Michael Boatman and Steven Boyer
Hachette Audio, unabridged: 7 hours on 7 CDs