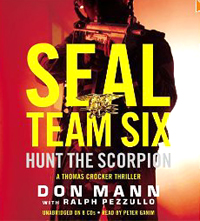 Warrant Officer Tom Crocker and his men of Seal Team 6 are in South Yemen waiting to dispose of a high ranking Al Qaeda terrorist when word comes that they are to abort the mission. Working on information that leading terrorists will be meeting a member of the Al Qaeda organization, the Team is in place ready for elimination, awaiting word from Washington, so they are puzzled when they are told they will be airlifted to a carrier off the coast of Somalia instead. A small ship has been overtaken by pirates and Seal Team 6ís mission is to recover the dangerous cargo, yellowcake, a material used to make high-grade nuclear weapons. After the Seals overcome the pirates it is discovered that the pirate part was a facade. A terrorist group based in Libya is behind the hijacking, and Crocker and his men are sent to Libya to try to locate more nuclear material before it can be used for mass destruction. The search for the nuclear material leads Crocker and his men into violent encounters with Libyan nationals and various terrorist groups. When they observe brutal treatment of innocent men in a POW camp, they take matters into their own hands and arrest the sadistic camp leaders. This leads to retaliation, and Crockerís wife, Holly, also a government agent working in Libya, is kidnapped. The CIA and the American ambassador assure Crocker that they are handling the situation, but Crocker and his men decide to ignore politics and find Holly themselves.
This is an excellent book that tells of the courage of the Navy Seal Team 6 that is constantly on 24 hoursí notice to be somewhere to do what regular military canít, with no questions asked. The authorís background allows him to present an authentic picture of the workings of Seal Team 6, since he is a former member of this elite group and has served in training and other capacities with the Team since his retirement. It also tells of the role politics often plays in failures in the fight against terrorism. It shows the unfortunate results when personalities and politics hamper the efforts of front line soldiers in defeating terrorists.
This book is thrilling from start to finish, whether the team is preparing an assault on an enemy or preparing for the most grueling marathon on the planet. Following Crocker and his men is like participating in a real life video game, where the attacks come from every corner and strategies must change with each encounter. This book is also informative, giving the reader inside information about recognizable historical events and the way the government dealt with conquered enemies. The violence the Team experiences is tempered by the humor of the conversational by-play between the men, making the book an entertaining and enjoyable read, despite the bloodshed. Highly recommended.
Seal Team Six: Hunt the Scorpion by Don Mann with Ralph Pezzullo
Read by Peter Ganim
Hachette audio, unabridged: 8.5 hours on 8 CDs