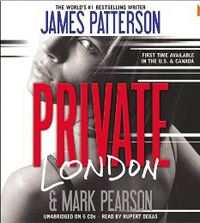 Private, the elite private security firm, owned by Jack Morgan has tentacles that reach around the globe. When a Hollywood business man needs to discreetly and safely relocate his traumatized young daughter, Jack, assigns the head of his London office of Private, former Royal Military Police Sergeant Dan Carter, to escort the girl from Los Angeles to London and to enroll her in school. Hannah Shapiro and her mother were the victims of kidnappers who raped and murdered the mother and were about to do the same to the girl when Jack Morgan burst into the room and saved the girl, but the psychological scars remain. It is almost a decade later and Hannah has been kidnapped again. This time her father will stop at nothing to ensure her safe return and Danís office must negotiate with the kidnappers. Danís ex-wife DI Kirsty Webb is investigating the abduction and mutilation of young women in London, and thinking that Hannahís disappearance might be related to the gruesome crimes, the two decide to put aside their past relationship and their animosity and work together to find the brutal killers and Hannahís kidnappers.
The beauty of this story (perhaps beauty is an inappropriate word choice for such grisly crimes) is that what appears to be a straight-forward plot with uncomplicated characters with obvious motives is not that at all. Hannahís world is even more complex and shadowy than she realizes, and only when she is forced to confront her situation and analyze her decisions can she begin to understand how she has misunderstood what she thought was real. Dan Carter and Kirsty Webb trade sarcastic comments to and about each other, but work together congenially, showing mutual respect and lingering affection.
Through Dan Carterís pursuit of Hannahís abductors and his attempts to pay the 5 million dollar ransom, Patterson and Pearson expose the reader to various areas of London and the countryside, making the book a kind of travelogue. From seedy bars to stately mansions, Private London takes the reader on a rapid transit ride of suspense and hairpin turn plot twists. In a stunning, but satisfying conclusion, Dan shows why Private is worth every penny the rich and famous pay for its protection. This is a superb addition to the Private series and is recommended without reservation.
Private London by James Patterson and Mark Pearson
Read by Rupert Degas
Hachette Audio, unabridged: 6.5 hours on 6 CDs