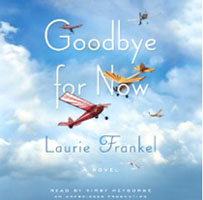 Hasn't everyone, at one time or another, entertained the fantasy of finding his or her soul mate? Thanks to computer genius Sam Elling and the software develops for the dating service he works for, it is now possible for members to scientifically find their perfect partners immediately. The algorithm he develops works flawlessly and leads him to his soul mate, Meredith, a co-worker in the marketing department. Just when he's enjoying acclaim for his breakthrough technology, Sam finds himself fired! It turns out that the dating service would rather profit from repeat customers, than create satisfied customers who find their soul mates on the first attempt and then have no further need of the company's expensive service.[PRBREAK]
When Meredith's grandmother Livvie dies, Sam wonders what he can do to help Meredith deal with her grief. With lots of time on his hands in his state of unemployment, he uses his computer skills and applies the algorithm he used to find soul mates to create a virtual Livvie who can continue to communicate with Meredith. Since the two have emailed, texted and video conferenced for years, they've created a vast network of electronic messages. Mining the massive reservoir of internet and electronic communication between Meredith and Livvie he is able to give Livvie predictable and realistic responses to Meredith's questions, allowing them to communicate in much the same way they had when Livvie was alive. Meredith finds so much comfort in her ability to continue her conversations with her grandmother that she begs Sam to make the technology available to all people who are grieving. They form a start-up internet company and after tossing around names such as DeadMail, they call it RePose. Meredith recruits her flamboyant cousin Dashiell and the three form an ideal partnership with Sam as the computer programming expert, Meredith as the marketing director and Dash taking care of the social aspects of the business. Through RePose, the three meet all kinds of people from all walks of life with varying responses to death and reasons to contact their loved ones, but it isn't until they experience their own tragedy that the partners can really appreciate the impact of RePose.
A concept that might seem creepy if presented by another author becomes promising and intriguing in Frankel's hands. She creates intelligent, likable, sensitive characters who recognize and discuss the ethical concerns of death and loss. Her main characters are warm, often comical, always sincere and dedicated to their mission to help people deal with grief. The secondary characters, the RePose subscribers who use the service to connect with their DLOs or Deceased Loved Ones, are a diverse group of grieving spouses, parents, siblings, lovers and friends who end up teaching each other (and the listener) about grief and survival. Kirby Heyborne's breezy narration brings just the right degree of levity to what could be a somber and depressing subject.
Goodbye for Now is a book that can be enjoyed by teens as well as adults and provides an excellent jumping off point for discussions about dying, but more importantly, about living. Not only is this book a delightful romance, it is a thought-provoking examination of loss and letting go and the role technology plays in communication. Frankel suggests possibilities that would have sounded absurd just a decade ago, but now seem entirely plausible, considering the advances in artificial intelligence and computer technology. Highly recommended.
Goodbye for Now by Laurie Frankel
Read by Kirby Heyborne
Hachette audio, BOT, unabridged: 12 hours on 10 CDss