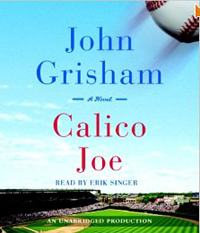 When the 1973 Chicago Cubs needed a first baseman, they called up a little known 21 year old from one of their farm teams--Joe Castle, from the small town of Calico Rock, Arkansas. Calico Joe's debut with the Cubs made him an instant celebrity when he homered 3 times in his first major league game. As the season progressed Joe broke record after record and garnered respect from baseball fans nationwide for his raw talent and unfailing good sportsmanship. One ardent admirer was 11 year old Paul Tracy, son of Mets pitcher Warren Tracy. Warren Tracy was everything that Calico Joe wasn't. Warren was an aging, mediocre, mean-spirited, womanizing alcoholic. Paul and his mother were often targets of Warren's abuse, but when Calico Joe became Warren's victim, all of their lives were irreversibly altered. Thirty years later, an adult Paul Tracy is a mission of healing and redemption.
Grisham's entertaining yarn, told from Paul's perspective, alternates between 1973 and the present. Although the main characters are fictional, Grisham includes many recognizable baseball players and sports figures as minor characters. He includes enough baseball statistics and history to intrigue knowledgeable fans, but not so many that a baseball illiterate would be confused or turned off. Erik Singer's portrayal of both the 11 year old and adult Paul is particularly heartfelt. The listener can feel the despair and disappointment of the young boy and the determination and decency of the adult. He also portrays the other characters effectively, using regional accents and the effects of physical impairments to help define them.
Calico Joe is a very moving and inspirational story that deals with the reliance of the human spirit and the redemptive power of forgiveness. Sports fans will appreciate the baseball references, but all readers from young adult to senior citizen will find the characters and story line engaging. Grisham's colorful description of rural American society and his insightful examination of family dynamics add to an already satisfying audiobook.
Calico Joe by John Grisham
Read by Erik Singer
Random House Audio, unabridged: 4.5 hours on 4 CDs