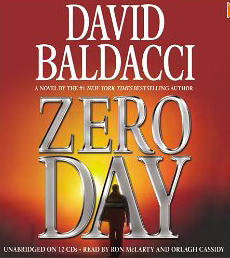 In Zero Day Baldacci introduces a new hero, John Puller, a combat hero now working as an investigator for the Army's Criminal Investigation Command. This bold, compassionate, clever, and relentless truth-seeker is burdened with the psychological baggage of conflicting emotions about an overbearing father who is considered a military legend and a brother who is serving time for treason in a military jail. When Puller is sent to a rural West Virginia town to investigate the execution-style murder of a military family, he is forced into a reluctant collaboration with the local authorities in the person of Detective Samantha Cole. What seems like a senseless assassination of an innocent family takes on global proportions as bodies pile up and Puller and Cole uncover layers of deception in this poverty-stricken coal-mining area.
Baldacci not only creates and develops a new protagonist in John Puller, he expertly presents readers and listeners with a community of supporting cast members whose connections to coal mining shed light on the glories and the hardships of this important industry. Detective Samantha Cole embodies the traits that characterize so many people of the region. She is brave, honest, determined, resilient, reserved, and fiercely loyal to those she loves. Baldacci suggests a romantic attraction between Puller and Cole, teasing the listener with the possibility of future plans for the two. Ron McLarty and Orlagh Cassidy continue to masterfully convey the passion and purpose of Baldacci's male and female characters, as they have in several of his Camel Club and Sean King/Michelle Maxwell bestsellers.
Zero Day is informative as well as entertaining, because this intriguing, suspense-filled thriller is peppered with facts about the mining process, nuclear detonation, environmental impact and governmental involvement and regulation. Rather than taking energy production for granted, the listener is compelled to consider costs beyond the dollar amount reflected on a utility bill. There is no heavy, didactic message, only the subtle suggestion to appreciate resources and services. All the while, though, Puller and Cole maneuver their way through life-threatening encounters with familiar local citizens and dangerous unknown outside entities. With sound effects including gunshots and explosions adding even more to its dramatic intensity, this audio book is highly recommended for individual listening on a car pool ride to work or for a family road trip.
Zero Day by David Baldacci
Read by Ron McLarty and Orlagh Cassidy
Hachette Audio, unabridged: 13 hours on 12 CDs