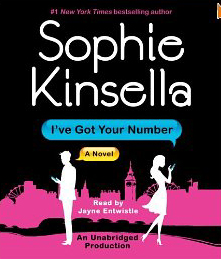 This charming audio book is not only very funny, but it's also a social media eye-opener. Poppy Wyatt was mostly impressed with the number of footnotes when she read her college professor fiancÚ's book. He explains that they are useful for discussing, "things that aren't your main concern, but nevertheless hold some interest for you." Hearing this Poppy decides that they are very handy for organizing her thoughts and comments. "You just bung them together wherever you want and instantly look clever." This way of thinking sets the tone for the madcap book as she proceeds to use them liberally, detailing her misadventures.
Everything is perfect in her world; she's set to marry handsome Magnus Tavish, an esteemed college professor and author, and she is the guest of honor at a pre-wedding luncheon with her best friends. All that changes, though, when while passing her engagement ring around, it goes missing during the chaos caused by a fire alarm. While she's standing outside the hotel, she's mugged and her relentless search for the family heirloom ring and her missing purse and cell phone leads her to a dumpster in an alley. There she finds a cell phone that had been discarded by a businessman's personal assistant after she abruptly quit her job. Poppy needs a phone since her wedding is in 11 days and she's left messages with everyone she knows regarding her missing ring, and the businessman, Sam Roxton, needs the contacts on the assistant's phone, so they agree to share the phone temporarily. Their text and email relationship rapidly evolves into a kind of bizarre friendship as their required electronic intimacy causes them to become aware of each other's dilemmas.
Sophie Kinsella has created another lovable, clever, naive and unpredictably zany character in Poppy Wyatt. Think, "I Love Lucy Goes to London." The magic of this character is that her positive approach to life's challenges is addicting. Although, I have nothing in common with her--culturally, physically, generationally, I found myself reacting like Poppy to everyday situations, and it lightened my spirits and made happy. Jayne Entwistle's portrayal of the various characters is so convincing that it's hard to believe that all those unique voices are coming from a single actress. She effectively conveys, among a wide range of emotions, Poppies' desperation and delight as she navigates her world.
Texting, email and the wonders (or horrors) of social media figure prominently in this book. It's not necessary to understand how exactly how it's all done, it's enough to appreciate that people can communicate quickly and easily with a vast audience and that that communication is rarely entirely private. Kinsella does an excellent job of balancing the amount of verbal and electronic communication, making each essential and dependent on the other. Her characters are engaging and authentic, and her elaborate plot is believable with a satisfying conclusion. Footnote: This book is highly recommended.
I've got Your Number by Sophie Kinsella
Read by Jayne Entwistle
Random House Audio, unabridged, 13.5 hours on 11 CDs