On The Road:
Features by Authors, Experts, Gurus, & Guides
ON the ROAD with CHRIS EPTING
Author & cultural historian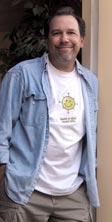 Chris Epting is an accomplished roadtripper, cultural historian, and the author of nine books including James Dean Died Here, Marilyn Monroe Dyed Here, Roadside Baseball, Elvis Presley Passed Here, The Ruby Slippers, Einstein's Brain, and Madonna's Bra, and Led Zeppelin Crashed Here. He is a regular contributor to a variety of travel publications and the spokesperson and co-creator for the Hampton Inn's "Hidden Landmarks" program. Originally from New York, Chris now lives in Huntington Beach, California, with his wife Jean and their two children.
It's Only Rock and Roll (But I Like Visiting It)
TOP 10 ROCK AND ROLL PLACES
by Chris Epting
Rock and roll, despite its infamous reputation for mayhem and property destruction, has a surprising number of historic landmarks that didn't just survive -- they thrive. Given rock and roll's status as a genuine, homegrown American product, like baseball it enjoys a growing number of wanderers who love hitting the road in search of the landmarks that define the art (myself included). So as a sampling from my new book, Led Zeppelin Crashed Here: The Rock and Roll Landmarks of North America, here are my Top 10 hits; ten places every rock and roll connoisseur should hit at some point in their travels…
1. Big Pink
2188 Stoll Road
Saugerties, New York
This house was the Band's crash pad, where they hosted Bob Dylan and where The Basement Tapes was recorded. In addition to The Basement Tapes, the sessions also resulted in The Band's debut album, Music from Big Pink. The singles, "The Weight" and "This Wheel's on Fire" became
instant classics.
2. Chess Records
2120 South Michigan Avenue
Chicago, Illinois
This is one of the most famous addresses in rock and roll history. After settling at this two-story building in 1957, the Chess Bothers (Polish-Jewish immigrants Leonard and Phil) continued the tradition they had started 10 years before of recording the jazz players who performed at the brothers' nightclubs. Only now they had a permanent address and a real recording studio, as opposed to the various rented storefront offices they'd been using. Over the years, many classic records were cut at Chess. Chuck Berry recorded "Johnny B. Goode" on February 29, 1958, and Bo Diddley, Muddy Waters, Howlin' Wolf, Willie Dixon, Ramsey Lewis, James Moody and many other blues greats recorded here. British blues bands like the Rolling Stones and the Yardbirds treated Chess like Mecca-the Stones even cut a song called 2120 Michigan Avenue in homage. After years of being used as a dance theater, today it's been restored and tours are available.
3. Janis Joplin Death Site
Landmark Hotel (now the Highland Gardens Hotel)
Room 105
7047 Franklin Avenue
Hollywood, California
This is where Janis Joplin accidentally overdosed on October 4, 1970. She died in her room at the Landmark Hotel in Los Angeles, having scored a particularly pure batch of heroin. Her sad, lonely death followed that of Jimi Hendrix, who'd died just two weeks earlier. (Jim Morrison would die within a year.) Janis was cremated and her ashes were scattered along the Marin County coastline of California. The album she was recording at the time, Pearl, was released after her death. Although Janis Joplin's career lasted only a few years, she has been hailed as the greatest white female blues singer who ever lived.
4. Elvis Presley Birthplace
306 Elvis Presley Drive
Tupelo, Mississippi
Every year more than 50,000 music fans flock to Tupelo, Miss., to tour a modest, two-room house that was built for $180. It's the very house where the King was brought into the world on January 8, 1935. The city bought the land in 1956 with funds from a Presley concert, and today it's an official state landmark. Set on the 15-acre Elvis Presley Park, the grounds also have a museum and gift shop.
5. Site where "The Music Died"
Off State Road 20, north of Clear Lake, Iowa
Directions: Take Interstate 35 (the main road) to Clear Lake. From I-35, take Highway 18 west into town. Turn onto a road marked S28 going north from 18 (there's a gas station on the northeast corner of the intersection). Drive 5 1/2 miles on S28 and turn right onto 310th Street. Turn immediately onto Gull Avenue, a gravel road. Drive north on Gull one half mile and stop at 315th Street. Park. Walk to the west past the sign marking 315th Street into the cornfield. Walk west on the north side of the wire fence for half a mile. Four oak trees (one for each victim) mark the exact site of the crash (where a memorial sits).
"The Winter Dance Party Tour" was planned to cover 24 cities in a short three-week time frame, and Buddy Holly would be the biggest headliner. Waylon Jennings, a friend from Lubbock, Texas, and Tommy Allsup would go as backup musicians. Ritchie Valens, probably the hottest of the artists at the time, The Big Bopper, and Dion and the Belmonts rounded out the list of performers. It was the dead of winter and the tour bus had heating problems when they arrived at the Surf Ballroom in Clear Lake, Iowa on February 3, 1959. They were cold and tired. So harsh was the situation that Buddy had decided to charter a plane for himself and his guys. Dwyer Flying Service was called and charged $36 per person for a single engine Beechcraft Bonanza. At the last minute, Waylon Jennings gave his seat up to the Big Bopper, who was ill and had a hard time fitting comfortably into the bus. When Buddy learned Jennings wasn't going to fly, he said, "Well, I hope your old bus freezes up." Jennings said, "Well, I hope your plane crashes." Allsup flipped Valens for the remaining seat and Valens won. The plane took off just after 1:00 A.M. from Clear Lake and never got far from the airport before it crashed, killing all onboard. At the next tour stop in Moorhead, Minnesota, the rest of the performers looked for local talent to fill in, deciding the show must go on. They found a 15-year-old singer named Bobby Vee, which was the start of his career.
6. The Doors' Office/Recording Booth
8512 Santa Monica Boulevard
West Hollywood, California
This building, now the Benvenuto Café, once housed The Doors' office (up on the second floor), and the classic album, L.A. Woman was recorded in the space they used downstairs. In fact, the restroom in the current restaurant here is the actual vocal booth where Jim Morrison recorded the L.A. Woman album.
7. "Memory Motel"
692 Montauk Highway
Montauk (Long Island), New York
The Memory Motel is a small (13 rooms) motel and bar immortalized by the Rolling Stones in the pretty ballad of the same name (which appeared on the band's 1976 album Black and Blue). During the mid-1970s, the Rolling Stones-and in particular Mick Jagger-were regulars out on the remote reaches of Montauk, hanging out with artist Andy Warhol at his nearby compound, among other places. Jagger supposedly spent time at the motel because it had a pool table and a decent jukebox, and one night while here he supposedly was inspired to write the beautiful song about "Hannah, a honey of a girl," and where they spent "a lonely night at the Memory Motel." (Rumor has it he actually wrote part of the tune at the bar.)
8. The Gibson Guitar Factory
The Beale Street Showcase
145 Lt. George Lee Avenue
Memphis, Tennessee
Take a complete tour of the Gibson Beale Street Showcase in Memphis. This memorable tour of Gibson's Memphis guitar factory consists of an intimate viewing of the facility as Gibson's skilled luthiers craft some of the finest guitars in the world. An opportunity to witness the intricate process of binding, neck-fitting, painting, buffing, and tuning that creates these incredible musical instruments. See and hear how Gibson has helped shape the world of music for over 100 years and continues to set the pace for the musical innovations of tomorrow. The tour lasts approximately 45 minutes and in the gift shop of course you can buy a guitar.
9. Bob Dylan Home
519 North 3rd Avenue East
Duluth, Minnesota
Dylan was born Robert Allen Zimmerman on May 24, 1941, in Duluth, and spent his first six years in this port city at the end of Lake Superior. The Zimmermans lived on the top floor of this house, which incidentally was auctioned off on eBay in 2001 for $94,600. When Dylan was in kindergarten, his family moved to his mother's hometown of Hibbing, a mining town about 75 miles north of Duluth.
10. Sun Studio
706 Union Avenue
Memphis, Tennessee
Opened in 1950 by a local radio station engineer named Sam Phillips, some of the most legendary moments in rock-and-roll history were captured at this tiny Memphis studio, and many artifacts from over the years remain here today in this living music museum-including Elvis Presley's microphone and Johnny Cash's dollar-strung guitar. Phillips started Sun Records in 1952; two years later, a nervous local teenager came in to lay down a few vocal tracks. The date was July 5, 1954. "It was just an audition," remembers Scotty Moore, the country guitarist brought in to back up a green Elvis Presley for his Sun Records tryout. Near the end of the day, Presley broke into an obscure blues tune, "That's All Right," and history was made. The studio was restored with Sam Phillips's help, and in 1987 opened its doors as both a tourist attraction and a working recording studio. Ringo Starr, Def Leppard, John Fogerty, Tom Petty, Paul Simon, Bonnie Raitt, U2, and Matchbox 20 are only some of the recent music greats who have come to record at Sun Studio since it reopened. In the studio's own words: "Today, Sun Studio carries on the Rock N' Roll Revolution begun here in 1950, by providing a place where a kid with a guitar case full of dreams can stand in the footsteps of giants and carve out a legend." Tours are given on a daily basis.
Those are my top 10 must visit rock and roll landmarks-places where the music lives on in spirit for every fan to experience.
Chris Epting
May 20, 2007