How would you like to have lunch with an astronaut? That's one of the many options available to you at
Kennedy Space Center Visitors Center
at Cape Canaveral in Florida. But even if you don't opt for this opportunity, you'll find plenty to hold your interest for at least an entire day.
This privately owned center, in Orsino, Florida, provides educational exhibits and activities at the center as well as tours to other facilities nearby. You'll see a 'rocket garden', an outdoor exhibit of an extensive assortment of rockets, capsules and engines that have been used for actual space missions. You can take a tour by bus of the Space Center where shuttles and rockets are launched, and you can even arrange to watch a launch when one is scheduled.
See the Mercury command center, salvaged from the now-demolished building from which the Mercury missions were operated.. And if you'd like to experience the sensation of participating in a shuttle launch yourself, the Shuttle Launch Experience is a realistic flight simulator that makes you wish you could climb aboard for the next liftoff.
There are plenty of informative films, photos, & other mementos ranging in size from what you could hold in your hand to slightly larger artifacts, like the 360-foot tall Saturn V rocket. Some of it is hands-on - you can touch a moon rock! Outside is a wildlife sanctuary, with a viewing gantry that provides a good view of the two nearby Shuttle launch pads and the occasional sun-bathing alligator.
IF YOU GO:
Parking is free and kennels are provided for pets. Complimentary wheelchairs are also available. There is a small fee for viewing rocket launches, however, the center is located adjacent to some of Florida's finest beaches, which provide alternative viewing locations of the launches.
WHEN TO VISIT:
Open every day except Christmas and on some of the launch dates. If you are planning to watch a rocket/shuttle launch, be aware that the actual lift-offs are often delayed so you need to be flexible with those plans.
Launch information can be seen here.
JURISDICTION: Delaware North Companies Park & Resorts, Inc.
Information current as of November, 2010, last visit was December, 2009.
ADDRESS: SR 405, KENNEDY SPACE CENTER, FL 32899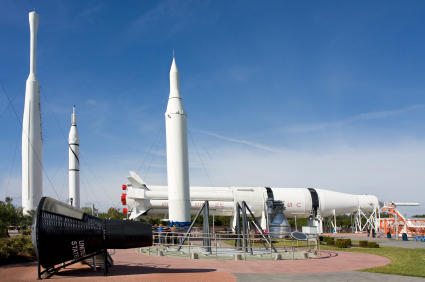 Rocket Garden, Kennedy Space Center, Florida
Photo courtesy of iStockPhoto.com - © Vladone