Southwest of Tucson, on the Tohono O'odham Reservation,
Kitt Peak National Observatory
offers visitors some of the best night skies in the world. Both daytime guided tours and nighttime viewing programs are available. During the night program, you'll view a variety of stars and planets and locate prominent night sky features.
For day visitors, options are a self-guided walking tour, audio tour which can be downloaded to your iPod or mp3 player, or a guided tour. Each of the three guided tours visit a different telescope. Another option is to take in-depth VIP tour. The nightly observing program is offered every night, though sessions are not offered from July 15 to September 1 during the monsoon season. An inside, hands-on program is offered if the skies are cloudy. For the amateur astronomer, special programs and more in depth viewing can be arranged ahead of time. Snacks and beverages are available, as is a gift shop. You can bring your lunch and eat at the picnic area.
IF YOU GO:
Call ahead to make sure programs and tours are offered that day. Allow 90 minutes driving time from downtown Tucson. Mountain temperatures vary considerably from the desert floor by 15 to 20 degrees and it is often windy, so dress warmly. In winter, bring hat, gloves and heavy jacket for the outdoor night program. Cell phones must be turned off. Transportation to the museum from Tucson through a private company for a fee is available for both day and night programs.
WHEN TO VISIT:
The visitor center and grounds are open from 9 a.m. to 4 p.m. daily. Reservations for the night program need to be made two to four weeks in advance. If possible, schedule your nightly observation visit when there is no moon.
JURISDICTION: Part of the National Optical Astronomy Observatory
INFORMATION VERIFIED BY Jaimie Bruzenak, November 2010.
ADDRESS: PO Box 26732, Tucson, AZ 85726-6732. Physical address: 12 miles up State Highway 386, left off State Highway 86, west of Tucson.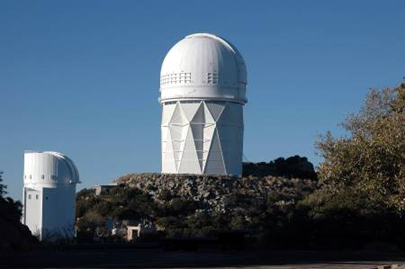 Mayall and Bok Observatories
at Kitt Peak National Observatory
Photo courtesy of George Bruzenak