Sarah Winchester, heiress of the Winchester Rifle empire, was a very rich woman, and the
house
she had constructed shows it. She was also a bit eccentric and after a psychic reputedly informed her that she'd die if construction on the house ever stopped, she took the advice to heart and used her fortune to finance round-the-clock construction beginning in 1884. She died anyway, but fortunately it took 38 years and in the meantime her construction team built one of the quirkiest, most delightful architectural oddities in history.
Spread out over about 6 acres, the house features 160 rooms and a great many notoriously bizarre elements such as doors and stairways that lead nowhere. Number 13 crops up quite a bit in the design, including 13 bathrooms and rooms with 13 windows. The hour-long tours of the house include a glimpse at the séance room which Mrs. Winchester made frequent use of. Your guide may fill you in on some of the many colorful legends and rumors surrounding Mrs. Winchester and her home, including the supposed existence of a wine cellar she had boarded up because of superstition, and which still has not been rediscovered. The grounds also are elegantly laid out, still looking very much as she might have left them.
The offbeat features alone would be worth the tour, but there are also some rather tasteful and elegant furnishings including parquet floors, Tiffany glass and chandeliers – with 13 lights, naturally. Much of the continuous 'construction' that went on for 38 years actually involved tearing down and remodeling what had just been built, so there have been a great many other unique architectural curiosities that have been lost forever.
IF YOU GO:
You can also opt for a grand tour, lasting two and a half hours, that takes you to parts of the house normally off limits to the public. There is also a free fireworks museum on the premises. Tours are not accessible for wheelchairs or strollers. If you have an RV, you can park in the theater lot across the street.
WHEN TO VISIT:
Winchester Mystery House is open daily year-round except Christmas Day. Evening flashlight tours are offered during the Halloween season and on Friday the 13th.
JURISDICTION: Winchester Mystery House, LLC
INFORMATION VERIFIED: by phone Oct. 2010
ADDRESS: 525 S. Winchester Blvd., San Jose, CA 95128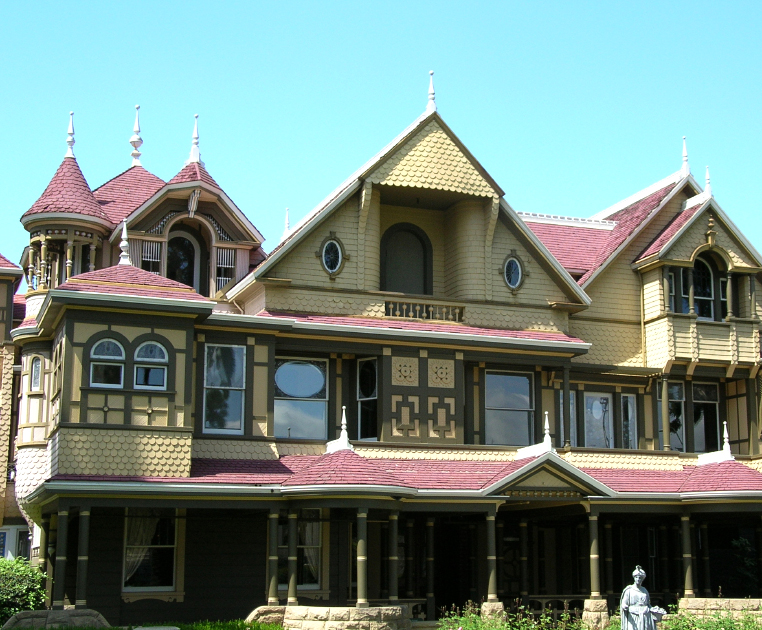 Winchester Mystery House in San Jose
Photo courtesy of iStockPhoto.com - © Carrie Winegarden