The Phoenix One Journals Stories from the dawn of RoadTrip America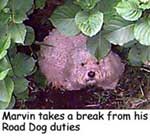 If we ever decide to give up coffee, we now know where we'd turn for a healthy boost of energy: Seattle's Total Experience Gospel Choir. No one is left sitting down by the end of a performance, and when the program includes dancing and drumming by the Adefua African Music and Dance Company, no one is left motionless.
The next day, we visited Chasley, Inc., the company that's famous for great juggling toys. Barb & Charlie Brister gave us a tour of the plant, and even provided us with a mysterious GIZMO. See if you know what it is!
The Boeing Surplus Store is legendary in Seattle, and we made a pilgrimage to this Mecca for hobbyists, craftspeople and packrats. Yes, you really can buy spare parts for your 747, as well as computers, furniture, wire, paper, fixtures, tools for doing everything conceivable to metal, and an endless array of gadgets, deelibobs and whatchamacallits.
Near the Space Needle we paused for a close-up look at another Seattle landmark, Lincoln's Toe Truck. It just may be the only diesel-powered pun in the country.
In Auburn, a little way south of Seattle, Mark spied a car with something extra, a pair of propellers on the back. Don Hahn's perfectly restored 1964 "Amphicar" allows him to cross lakes as well as drive on land.
From Auburn, we're planning to head west and north. Join us as we head for the Olympic Peninsula!