Physically Challenged Road Trippers: Links & Resources
RoadTrip America Recommends
In Association with Amazon.com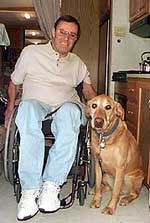 Chuck Bosch & Buster

Walt Disney World for your Special Needs: Excellent resource for traveling in the Orlando area by Deb Wills and Debra Martin Koma (11/20/05)

Wheelchairs on the Go: Accessible Fun in Florida: This new book by Michelle Stigleman & Deborah Van Brunt packs hundreds of great tips. Click here to read a review.

Wheelchairs on the Beach: A list of locations where wheelchairs built for beach conditions are available for rent.

Handicapped Travel Club was formed to encourage traveling for people with a wide range of disabilities. They encourage people with disabilities and their families to travel, to meet, and to share information on making recreational vehicles accessible for the disabled. "Fun and Fellowship" is their motto. They publish a newsletter, have local get-togethers, and sponsor rallies in various sections of the country.

Campground Directories: U.S. & Canada

For inspiration, read the story of Chuck Bosch and his dog Buster.

Enablemart offers Dashboarding and lifestyle products that can help overcome some mobility and dexterity losses when using electronic devices like computers and telephones.

Lists of companies that can customize vehicles of all types for the mobility-impaired are online at rv-info.net.