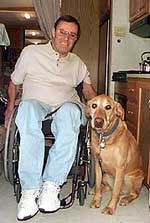 Chuck Bosch & Buster
A Story of American Independence
If ever a friendship had an inauspicious beginning, this was it. Marvin and I were taking our midnight constitutional in the RV park here in Las Vegas, when I noticed a man trying to untangle a dog leash from the left side of his wheelchair. I moved in to offer assistance when the dog at the end of the leash-- a large, ebullient golden lab-- seized the opportunity to make Marvin's acquaintance. In the ensuing activity, in which both dogs treated me as a human maypole and wrapped their leads around my legs, a sudden tug yanked the wheelchair off the sidewalk. Its occupant was hurtled headfirst onto the pavement. Even in the darkness, I could see blood.
With the help of a passing security guard and the man's calm instructions, I was able to restore him to his chair. He was still bleeding, and a large welt was rising on his temple. Even so, he refused further assistance. "I'm fine," he said simply. "I'll take care of it when I get back to my RV."
But how could he, I wondered. The man was a quadriplegic. He had the use of one shoulder, and no control over his torso, legs or feet. After returning Marvin to the Phoenix One, I went back out to check on him. And that's how I made the acquaintance of Chuck Bosch, the most remarkable road warrior I have ever had the privilege of meeting.
Over the next couple of days, Megan and I had the very good fortune to learn more about Chuck's unusual life. Left a quadriplegic after a water-skiing accident in 1985, he lives in Carson City, Nevada. Chuck spends a great deal of time traveling around the country, by himself, in a 34-foot 1997 Winnebago class 'A' motorhome. He tows a full size 1998 GMC Safari van which he uses for transportation when the Winnebago is parked.
Undertaking such mundane tasks as dressing, eating, and personal care would be challenge enough for most individuals faced with his disabilities, but Chuck also manages to accomplish nearly all of the chores that are a part of daily life in a motorhome. With aplomb, Chuck showed us how he can hitch his van to his RV and hook up sewer, power and water hoses. "It takes me about forty-five minutes," said Chuck, "If the ground is flat and dry, and the hookups aren't too far away from the vehicle."
At the time of his accident, Chuck was working for the Nevada Department of Transportation. His primary goal was to return to work as soon as possible. His doctors considered his plan unreasonable, but that didn't deter Chuck. Within six months, he was back at work, and he continued to work full time for another ten years. "It is easy to become institutionalized with this type of injury," Chuck told us, but by setting and then achieving the goal of going back to work, Chuck began to recreate his life.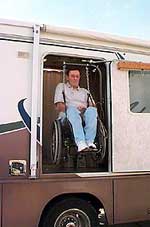 Chuck aboard the "Super-Arm Lift" that gives him access to his motorhome
In addition to his true grit, patience and determination, Chuck uses a number of gadgets to meet each day's challenges. A hands-free Nokia 6160 wireless phone serves as his lifeline if he encounters situations that exceed his remarkable capacity for action. To gain access to his vehicles he uses a "Super Arm Lift" and a custom-designed mechanism that allows him to control the throttle, steering and brake of his vehicles by applying arm pressure. He also employs the use of a special splint developed at Rancho Los Amigos in Los Angeles. It enhances the contraction of the tendon in his forearm, allowing him to grasp a pen or other small implement. Chuck has also set up his motorhome so that he can adjust and operate the TV, satellite system, furnace, air conditioner, and kitchen appliances, all from his wheel chair. When he is on the road, he hires the services of a professional attendant to assist him each morning, but the rest of the day, he's self- sufficient.
Yesterday, we waved good-bye to Chuck (whose head, thankfully, was on the mend) and his dog Buster as they set out on the next leg of their ongoing adventure. In the next few days this unusual traveling pair will be "at home and on the road" in Prescott, Scottsdale, Tucson, Yuma and San Diego. Never again will I allow myself the luxury of thinking that I am not up to the task of the moment-- Chuck is living proof that there is ALWAYS a way. He has inspired me to stay the course-- no matter the apparent obstacles.