33 Years Later, Dallas Still Remembers
DALLAS, TEXAS—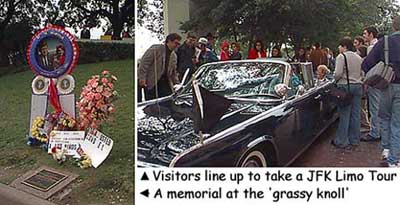 A crowd of people was standing quietly across from Dealey Plaza when we arrived last Friday morning. A long line of visitors waited nearby at the entrance to the Sixth Floor Museum, an exhibit housed in the Texas School Book Depository Building from which official theory holds the fatal shot was fired. Others climbed into a presidential limousine for a tour promising to reenact the events of November 22, 1963, complete with sound effects. The day was warm and clear, probably not at all unlike a day 33 years ago when John Kennedy met his death as he rode through the streets of Dallas.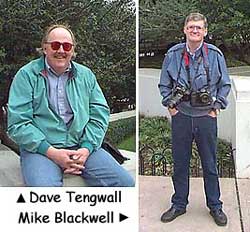 We paused at the top of the infamous 'grassy knoll,' the vantage point from which some claim the fatal shot originated. We chatted with Dr. Dave Tengwall, who was in Dallas to attend a conference hosted by the Coalition on Political Assassination. Dr. Tengwall teaches a course on presidential assassinations at Loyola College in Baltimore, Maryland. "Oliver Stone's film JFK raised interest in the subject of Kennedy's death," he said, "and my class covers the other presidential assassinations as well."
Mike Blackwell of Pflugerville, Texas, was 11 years old when Kennedy was killed. "I became interested in the assassination when I was in high school, ever since I read Six Seconds in Dallas. I pursued the topic in college, and I try to make it here every year."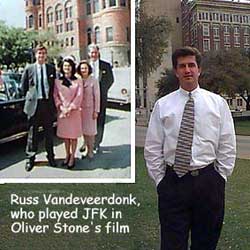 Russ Vandeveerdonk was only a year old in 1963, "But I'm from Dallas, and my family is Catholic. I grew up on the Kennedy legacy."
Russ may not remember the fateful day first hand, but he had a unique opportunity to experience a vivid reenactment. Oliver Stone chose Russ to play the role of Kennedy in JFK. "I would have paid for the honor," Russ said as he showed us photographs taken during filming. "It was a fabulous experience."
Thirty-three years have passed since John Kennedy was laid to rest, but a visit to Dallas on a somber anniversary reveals that the memory has not faded.
Update: 02-23-2021
We received the following e-mail memo from Michael Smith:
"In fact, Russ Vandenveerdonk did not portray President Kennedy in Oliver Stone's JFK. That was an actor named Steve Reed, per the official cast list at IMDB. Vandenveerdonk was actually a featured extra, portraying a nameless character on the car behind Kennedy's (as was I; neither of us was credited). To my memory, Vandenveerdonk was removed from the set on the second day of filming. His name had appeared in the Dallas Morning News along with his quote, that day. All cast and crew had been warned not to talk to media."
The Sixth Floor Museum
411 Elm Street
Dallas, Texas 75202-3301
(214) 747-6660
https://www.jfk.org

Click here for a city map and description from Peter Thody, who wrote about the museum on his visit in 2014.