Deck the Halls!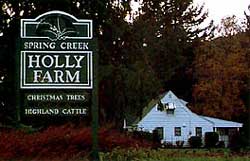 LEABURG, OREGON—

The day after Thanksgiving, when the parking lots of America live up to their potential and the spending season begins, we drove past the car-packed acres at Eugene's Gateway Mall and headed out Highway 126. "There are holly farms out there," a native had told us. "You'll see one on the left past Leaburg, and if you get to Vida, you've gone too far."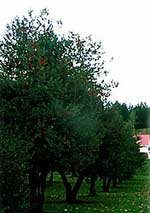 Holly orchard
Martha, Don and Will Haake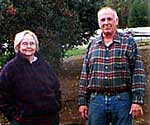 Richard and Martha Haake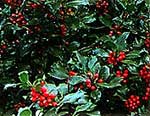 Traditional English holly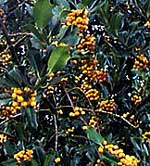 Go Ducks! Yellow-berried holly sports University of Oregon colors
The simple directions were sufficient. The rain showers of Thanksgiving Day had given way to high white clouds, and the misty lushness of the west slope of the Cascades enveloped us in quiet green. It wasn't long before we caught sight of a white sign cut in the shape of a Christmas tree. "Spring Creek Holly Farm" read the next one, and we knew we'd found our destination.
Now owned by Richard and Martha Haake, Spring Creek Holly Farm was built in 1934 by Martha's parents, Donald and Della Baxter. Holly trees were first planted in 1946, and in addition to 200 acres of holly orchards, the farm boasts nearly two thousand acres of Christmas trees. Luckily for us, the third and fourth generations of the Spring Creek dynasty were visiting for Thanksgiving, and we were treated to a tour by Don, Will and Martha Haake, who hail from San Diego, California.
Three varieties of holly trees flourish in the orchards of Spring Creek. English holly features the familiar deep green shiny leaves and red berries, and a variegated variety has leaves outlined in yellow. More unusual is yellow-berried holly, which, Richard explained with a laugh, boasts University of Oregon colors. Sure enough, the bright green leaves and bright gold berries looked like they'd been custom-made for the Ducks.Before Christmas has come and gone, Spring Creek Holly Farm will cut and ship 30,000 Christmas trees in addition to thousands of holly boughs and wreaths. "We cut the trees the day before we ship them," said Don. "About seven thousand a day. We guarantee freshness that way." The same care was obviously being applied to the holly, fir and juniper wreaths being crafted by hand in the farm's workshop.
Thanks to Spring Creek Holly Farm, Oregon greens grace homes and tables around the world. If you ever find yourself on the banks of the McKenzie River, stop by the holly orchards and fir groves where the beauty originates.

In the meantime, you can visit Spring Creek online at www.schf.com.