58 miles - about 3 hours
Rhode Island is the smallest U.S. state. It's only 48 miles long and less than 37 miles wide, but surprisingly, it has one of the longest coastlines of any eastern state. Its shoreline on Narrangansett Bay is over 400 miles long. As a result, just about all Rhode Island residents share a close affinity with the sea. This route starts at the state capitol in Providence, weaves through historic Revolutionary War battle sites, and then loops back to the tiny island of Tiverton. This is also the home state of Rhode Island Red chickens.
Here are some highlights along the route.
Providence
(Starting point)
Providence is 50 miles from Boston, Massachusetts, The city is full of historic buildings, houses, mills, churches and cemeteries located in numerous historic districts. The Rhode Island State House is a must-see, as are the Providence College and Brown University campuses, the Cathedral of Saints Peter and Paul and the John Brown House Museum (this particular John Brown was an American merchant, slave trader and statesman).
Crescent Amusement Park, Riverside
(mile 8)
Crescent Park Looff Carousel and Shelter Building
is a National Historic Landmark, and Rhode Island has declared it 'the State Jewel of American Folk Art.' The Looff is a wood carousel built in 1895. The carousel is in a fourteen-sided wood building called a hippodrome.
Blithewold Mansion and Gardens, Bristo
l (mile 19)
Blithewold Mansion, Gardens and Arboretum
located at 101 Ferry Road (Rt. 114), Bristol, Rhode Island. The Blithewold Mansion, which has great views of Narragansett Bay, is on 33 acres of lawns, gardens, trees and stone structures.
Fort Barton, Tiverton
(mile 24)
Fort Barton
was a fort that figured in the American Revolution. Today it has hiking trails that include boardwalks and bridges. Fort Barton is on the National Register of Historic Places.
Wilbor House and Barn, Little Compton
(mile 35)
Wilbor House
is located at 52 Power Street. The Museum's motto is 'Open a Door to 1788.' Wilbor House was home to John Brown, and it offers visitors a chance to learn about the history of Rhode Island.
Sakonnet Point, Little Compton
(mile 38)
Sakonnet Lighthouse
was built in 1884, and it can been seen from Sakonnet Point. The mouth of the Sakonnet River, which separates Aquidneck Island from the eastern portion of Newport County, is also at Sakonnet Point.
South Shore Beach, Little Compton
(mile 43)
This route includes a visit to the popular South Shore Beach. Quahog.org has done a good job documenting
Rhode Island Beaches
.
Adamsville, Little Compton
(mile 49)
Adamsville, which was first settled in 1675, is a historic village in
Little Compton
. The
Tiverton
is located on the eastern shore of Narragansett Bay, across the Sakonnet River from Aquidneck Island. The area is disconnected from the rest of the state of Rhode Island. Benjamin Barker House is a historic house at 1229 Main Road in Tiverton.
Bourne Mill
is a historic textile mill that has been turned into an apartment community. Tiverton Four Corners is a registered National Historic District.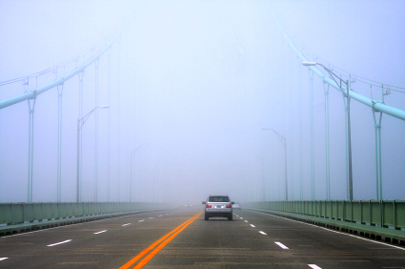 A road to infinity? Nope, this is the Newport Bridge
Photo courtesy of iStockPhoto.com / © Denis Jr. Tangney