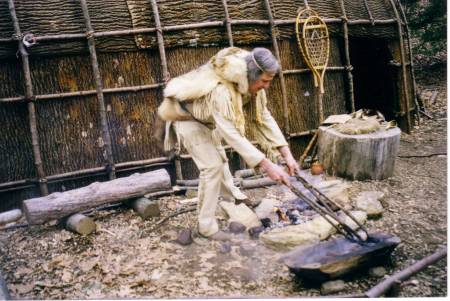 Western Connecticut
-
It may seem as though this cold, snowy winter will never end, but take heart. The plumes of smoke and sweet scents of maple syrup in the making are the first hopeful signs that spring is on the way. In Western Connecticut, where sugar maple trees are abundant, visitors are invited to see the fascinating process from taps to tastes...
More than a dozen sugar houses In Fairfield County and the Litchfield Hills welcome visitors during peak syrup season in March. .From family farms to nature centers to museums on wooded grounds, guests can see how the trees are tapped and buckets hung to collect the sap, then watch in the sugar house as big bubbling kettles of thin sap boil down to thick fragrant syrup. And, of course, visitors get to sample the delicious results. Many operations are open every weekend, while some have special maple celebrations.
Maple festivals will take place on March 7 and 8 at the Stamford Museum and on March 14 at the Institute for American Indian Studies in Washington and the South Wind Farm in East Hartland. March 21 is the gala date at the New Canaan Nature Center and the Sharon Audubon Center.
Nights below freezing and warmer days are required for the sap to run so dates for syrup making can vary. A call ahead is essential before visiting.
SYRUP SEASON IN FAIRFIELD COUNTY

Boil Down Fridays featuring demonstrations at the Sugar Shack continue at the New Canaan Nature Center from 10 a.m. to 2 p.m. until the end of March On Friday, March 6 a special Boil Down Under the Stars will add family games and folklore stories around the campfire to the agenda. The annual Syrup Saturday and Pancake Brunch on March 21 from 10 a.m. to 1:30 p.m. features flapjack feasts and a family Lumberjack Challenge with competitions at log heaving and firewood stacking www.newcanaannature.org

The annual Maple Sugar Festival at the Stamford Museum is set for March 7 and 8 at the little red Sugar House on the museum's Heckscher Farm. Family activities include a scavenger hunt, face painting and maple-themed crafts. Saturday's Teen Chef Challenge from 11:30 a.m. to 1:30 p.m. features dishes using maple syrup and local syrup is the star at Sunday's pancake brunch from 11 a.m. to 2 p.m.
www.stamfordmuseum.org.

At Warrups Farm in Redding, visitors are welcome the first three weekends in March from noon to 5 p.m..to watch the whole process in the log cabin sugar house, and to take a taste of the sap direct from the trees as well as the new syrup. Warrupsfarm.com
SYRUP MAKING IN THE LITCHFIELD HILLS


The handsome, newly expanded showroom at LaMothe's Sugar House in Burlington holds sugar-making demonstrations every March weekend. Hours are 10 a.m. to 5 p.m. Saturdays and noon to 5 p.m. Sundays. This family-owned operation, begun as a hobby, has grown to over 4500 taps and year-round showroom. Visitors enjoy complimentary maple coffee or hot chocolate. Lamothesugarhouse.com

All the family is invited to the 9th annual Maple Festival at Sweet Wind Farm in East Hartford from 10 a.m. to 4 p.m... Besides syrup making, guests will enjoy sugar candy making demonstration, a sugar-on-snow eat, tours, videos, tree tapping demonstration, kids' activities and live music. Visitors are also welcome on any Saturday in March when the sugarhouse is in action. www.sweetwindfarm.net

The Institute for American Indian Studies in Washington will have a different take on sugaring at its annual festival on March 14th. Demonstrations will show how local Native Americans traditionally made maple syrup and its importance to their culture and pancakes made by IAIS staff will served with local maple syrup www.iaismuseum.org

The Sharon Audubon Society also features a re-creation of Native American and early colonial sugaring methods along with its modern sugarhouse. The annual Maplefest will take place on Saturday, March 21 with guided 45 minute tours, but the public is welcome to drop in any March weekend if the sap is flowing. Be sure to call ahead. http://sharon.audubon.org



One of the largest and most unique operations is the Great Brook Sugar House on the Sullivan Farm in New Milford. This program sponsored by the New Milford Youth Agency uses high school and college students to help tap over 1600 trees on property donated by local residents. The young syrup makers also aid in collecting the sap and overseeing the boiling over a traditional wood-fired evaporator. Visitors are welcome to stop by any day that steam can be seen floating up from the sugar house. 860-354-0047



Another busy sugaring spot is the Flanders Nature Center Sugar House at Van Vleck Farm Sanctuary in Woodbury. Taps already are in place at over 300 trees at the Nature Center and around town, and the boiling down from sap to syrup can be seen on Saturday and Sundays, March 7,8,14,15,21 and 22 from 1 p.m. to 4 p.m. www.flandersnaturecenter.org.

Several other family farms also welcome visitors to their sugar housses, but an advance appointment is necessary. These include:

Brookside Farm,

Litchfield, 860-567-3805,

Brothers and Sons Sugarhouse,

Torrington, 860-489-2719;

Hilljack Sugarshack, Litchfield, 860-482-6052; Kasulaiis Farm and Sugarhouse,

Barkhamsted, 860-379-8787;

West Hill Sugarhouse,

New Hartford, 860-379-9672 and

Woodbury Sugarshed,

Woodbury, 203-263-4550.
For information on maple syrup making and a guide to all Connecticut sugar houses, see ctmaple.org. For information on other spring activities in the area and a free copy of Unwind, a full-color, 152-page booklet detailing what to do and see, and where to stay, shop and dine in the Litchfield Hills and Fairfield County in Western Connecticut, contact the Western Connecticut Visitors Bureau, PO Box 968, Litchfield, CT 06759, (860) 567-4506
For more information on the area, see
Discover Litchfield Hills
.