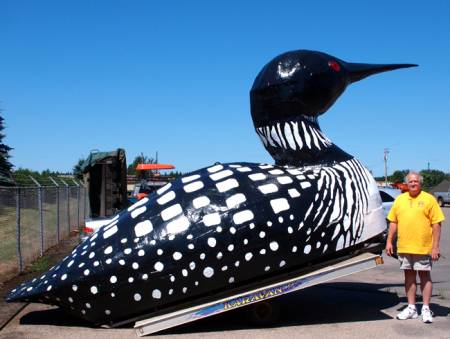 Take a peak across Silver Lake in Virgina, Minnesota during the summer months and you'll likely spot a giant loon! After a two-year hiatus for repairs to damage by a shotgun blast, the 21-foot loon - reportedly the largest in the world - now floats happily in the lake!

If you go:
The loon can be viewed at any time during the warmer months from several vantage points around Silver Lake. It is hauled out during the winter months when the lake is frozen. The Land of the Loon festival, which takes place each June, is a excellent time to visit. A nice walking trail loops around Virginia Lake, just to the north of Silver Lake across 2nd Avenue.
Links:
199 N. 6th Avenue West
Virginia, Minnesota 55792 USA
info@ironrange.org
Mailing address:
Land of the Loon Ethnic Arts and Crafts Festival, Inc.
Box 565
Virginia, MN 55792 USA
Phone Numbers:
Iron Range Tourism Bureau
+1 (218) 749-8161
Toll-free
+1 (800) 777-8497
Land of the Loon Festival
+1 (218) 749-5555