"Where to?" has got to be the leading road trip question, but there's another one that can have just as much impact on your journey: "What vehicle should I drive?" While our choices are often limited to whatever's in the driveway or rental yard, we asked ourselves the question. Our answers prove what we suspected all along: one person's dream ride is another's "Not in this lifetime!"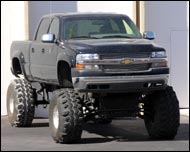 Big honkin' 4X4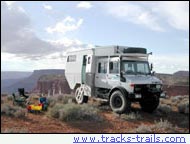 All-Wheel Drive Unimog RV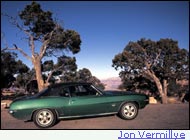 Classic cruiser: 1969 Camaro SS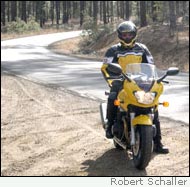 Kawasaki ZR7 Motorcycle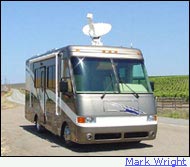 Datastorm dish on a class "A" motorhome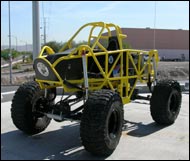 Drive to be noticed
Truck, Van, or SUV
Mark: First, it should have four-wheel drive, a minimum of a four-inch lift kit, a powerful, if somewhat fuel-guzzling engine, expansive cab and storage space, an assortment of built-in GPS and electronic gear, large all-terrain tires, and a winch. Color-wise, I'd go for black, with tinted windows. A GMC Yukon or Ford Excursion comes to mind. Creature comforts for the long days in the saddle are top priorities for this roadtripper.
Megan: Forget all the macho stuff! I'd choose one of those new hybrids like the Ford Escape and save on gas while enjoying the feeling of being cool and environmentally responsible. Four-wheel drive is nice, but here's a better plan - stay on paved or nicely graded roads! Why do you think they're called road trips? Hint: It's not because you're blazing trails.
Recreational Vehicle
Mark: My first choice would be one of the all-terrain and all-wheel drive units built on a Unimog chassis. If that weren't doable, I'd opt for a 40-foot class "A" along the lines of a Prevost or Marathon. I'd want the capacity to carry all the weather-tracking equipment and gear I wanted, room for a fully functional mobile office, and the ability to live well for a month or two at a time.
Megan: First of all, you might as well get used to one of life's most obvious facts: you can't look cool driving a motor home, even one built for combat duty in the Sahara. If you still want to try looking sexy driving a house, go small. Chinook has a four-wheel drive Class "B" that looks pretty jaunty for a vehicle with a kitchen and holding tanks.

Sedan
Mark: Over the years, I have enjoyed Fiats, Jettas and other mid-range sedans. These days, I'd favor performance and power over most other considerations. The Pontiac Bonneville GXP or a BMW 6 Series coupe comes to mind. Comfort and the ability to zoom along paved roadways are the priorities.
Megan: A sedan is definitely the classic road trip conveyance, and to be really dreamy, make it a convertible. Okay, go all the way. Make it a red convertible, like maybe a 1964 Mustang. Yeah, now you're talking…

Motorcycle or Bicycle
Mark: Both of these forms of transport, while fully vetted as superb road trip conveyances, represent a little more discomfort that I am generally interested in experiencing. But given the right mix of circumstances, I would probably choose a Honda GL1800 Gold Wing as my first choice in motorized two-wheel travel. If I wanted to use foot-power, I would opt for one of famed Petaluma bike builder Bruce Cordon's bikes, probably the BLT (basic loaded touring) model.
Megan: Here's your chance to look cool, but you definitely have to know what you're doing to set out on a road trip on a motorcycle or a bike. Knowing absolutely nothing about either, I have this much to say. Why not go for the "Easy Rider" look on a motorcycle? You'd be sure to have a memorable journey - maybe even good enough to get made into a movie. The most romantic bicycle has got to be a tandem, even though they do look a little unwieldy. (But if you break down, I'll be right behind you in my red convertible.)
Hot Dog or Covered Wagon
Mark: Over the years, we've seen horse-drawn carriages, food-shaped trucks, "Mad Max" contraptions, kinetic sculptures, electric cars, and even motorized beds. (On occasion, we've even captured photos.) If I had to drive a unique vehicle, I'd make it a fully-integrated Dashboarding mobile office built on the 32-foot chassis of a M-2 Freightliner tractor. I'd use it to test every satellite navigation and electronic communication device available. Outside, in case a forest of radio antennas wouldn't attract enough attention, I'd wrap it in some gaudy "conspicuous consumption" graphics. That should make for an interesting road trip!
Megan: If I had to drive something unique, I think I'd go for the Oscar Meyer Wienermobile. Not only is it universally recognized and generally loved, it has a horn that plays the trademark wienie song. For making friends while traveling, it would be hard to beat. But I'm still dreaming about that red convertible.
There is one thing we both agree on, though. Whether you're driving a unicycle or a Unimog, get out there! There's no place like on the road.

Mark Sedenquist & Megan Edwards