Getting Out There:
RoadTrip News & Views
| | |
| --- | --- |
| Robots on the Road, continued from page 2 | |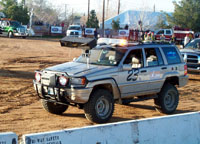 Axion Racing's entry gets disoriented in the starting area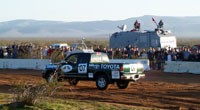 Third place finisher DAD, from Digital Auto Drive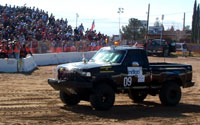 "Golem I" exceeds expectations to come in fourth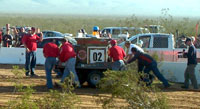 University of Louisiana's CajunBot gets an assist after failing to evade a rock and a creosote bush
What I found interesting was how some of the robots seemed almost like sentient beings as they sought the path to take them out of the start area. Axion Racing's entry "The Spirit of Kosrae" circled the departure area and signaled what seemed like confusion with a series of honks. The high school team's "Doom Buggy" tried to correct itself but had two collisions with the K-rail barriers. It even knocked one down before being shut down. Cliff and CajunBot both had technical malfunctions that led to their disqualification before they could leave the starting area. Cliff seemed almost human as it tried to overcome locked brakes but ended up stalled. Sensor readings proved to be the biggest problem for the bots, which were, by and large, unable to overcome challenges posed by rocks, posts, and fence wire. TerraMax, which appeared to have the best optical sensing devices, decided that some roadside bushes were too threatening to allow forward progress after going only 1.2 miles.
I found myself rooting for Golem I, the underdog described at the press conference as "the little engine that could." The bot with the lowest budget ($35,000 as opposed to Sandstorm's reputed $3.5 million price tag) was financed almost entirely by team leader Richard Mason's "Jeopardy" winnings. Golem I surpassed everyone's expectations and reached the 5.2-mile marker, having successfully negotiated obstacles that stopped all but three other competitors.
Yes, it would have been more rewarding to see all 15 bots cross California Highway 127 where I was waiting at mile 80 later in the day, and to give them a hero's welcome in Primm. But to those who cry, "Alas!"—you're missing the point. Trouble-free autonomous navigation may not be ready for primetime, but these early pioneers should be applauded for trying to achieve the impossible.
More than a race, the "DARPA Grand Challenge" is a road trip. The destination, while it remains an important goal (and DARPA will repeat the race at some point), is less important than what happens along the way. All of which means that the greatest robot race ever held was one of the most memorable road trips I've ever taken.
For more information about the DARPA Grand Challenge, click here.
Yours from the road,



Mark Sedenquist