Getting Out There:
RoadTrip News & Views
Robots on the Road, continued from page 1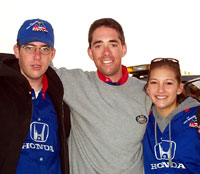 Palos Verdes High School team members Aaron Schwartz, Chris Seid, and Alé Schleicher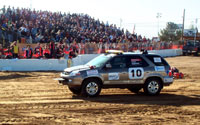 Palos Verdes High School's entry: "Doom Buggy"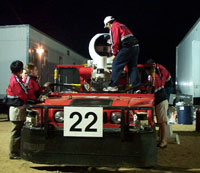 Carnegie Mellon University team members work on top-performer "Sandstorm"
Avidor-2004, a modified Tomcar from SciAutonics II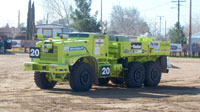 32,000 pounds and no driver: the "TerraMax" from Oshkosh Truck Company
Before the race began, I spoke with team members and marveled at the diversity of vehicles they had created. Most were built on recognizable chassis and components, but by the time they were lined up in the starting chutes, each one was a truly unique contraption with its own name and personality:
Sandstorm, a humvee from Carnegie Mellon University
Avidor-2004, a dune buggy from SciAutonics
Bob, a 1996 Chevy Tahoe from Caltech
DAD, a Toyota Tundra from Digital Auto Drive
Cliff, an Ingersoll-Rand golf cart from Virginia Tech
The Spirit of Kosrae, a 1994 Jeep Grand Cherokee from Axion Racing
CajunBot, an ATV from the University of Louisiana, Lafayette
David, a 1993 Isuzu Trooper from ENSCO
Navigator (with special emphasis on the "gator"), an ATV from the University of Florida & Autonomous Solutions
Doom Buggy, a Honda Acura MDX from Palos Verdes High School
Rascal, an ATV from SciAutonics
TerraMax, a military truck from Oshkosh
Golem I, a Ford F-150 pickup from Santa Monica
Two competitors who qualified but did not compete included a "from-scratch" six-wheel, hybrid-fueled creation named the "Terrahawk." The other was "Ghost Rider," a motorcycle that was capable of staying upright by using a complex series of balancing adjustments as it moved. Unfortunately, both vehicles were sidelined by mishaps prior to the beginning of the race.
Because not one robot made it to the finish line in Primm, Nevada, it's easy to dismiss the contest as a failure. In fact, the farthest any of the vehicles made it was 7.4 miles from the start, and some of the entries didn't even make it out of the launching area. But I was there at the start, and I can tell you it was a thrill to watch these unmanned vehicles head out into the great beyond. Some of the "bots" looked like they were being piloted by invisible humans intent on setting a new speed record - Sandstorm, Avidor, David, and Golem I zoomed out of the starting chutes, while others like the 32,000-pound TerraMax, the elegant "Dad," and the lumbering "Bob" made slower but no less impressive departures. Continue>>