RV Road Trip: Pros & Cons
How to Decide Whether to Try an RV Adventure or Stick to Hotels
by Dan Wulfman
A carefully planned RV vacation can be one of the most carefree, recuperative, exciting vacation experiences you'll ever have. But it's not for everyone. At my company, Tracks & Trails, we go to great lengths to head off problems for people who buy our RV vacation packages. But any trip that involves navigating unfamiliar territory is likely to produce a few stressful moments. You could encounter bad weather or get lost a time or two, forcing you to alter your plans. Take the time to think about how you handle these and other uncertain situations. If you like to know exactly what happens next, a resort vacation or and escorted tour might be a better bet.
Have a look at the pros and cons below, and you'll know whether to try an RV adventure or stick to hotels.
THE PROS
Family Time
I don't know why, but nothing brings a family together like camping. Maybe it's because so much teamwork is required. "Which campsite do you like best?" "Which trail leads back to the parking lot?" "Should we get up at 5:00 to see the sunrise from Hopi Point or sleep in?
Platform for Adventure
An RV is the perfect base camp for pursuing all sorts of outdoor activities. Mountain biking, river rafting, rock climbing, and hiking are all just a little more enjoyable when you have a comfortable home to come back to.
Kids Love It!
There's something about a home on wheels that inspires every child. They'll fight constantly over who gets to sleep in that cool bed over the cab. And in an RV everything you need is always close at hand: a stocked refrigerator, a clean restroom, a place to sit or lie down and have a rest, a warm refuge when it suddenly turns chilly, a cool place when it's hot, room for the kids to spread out their stuff. It's a little home on wheels, and after a few days you truly feel at home in it.

A Better View
Spend your evenings enjoying the company of other families (or not) in some of the most scenic places in the world.
THE CONS
You're the Captain
Even with all the big stuff arranged in advance, you'll still need to make lots of small decisions. If uninterrupted relaxation is what you want on this vacation and you would like for someone else to take care of nearly everything for you, an RV isn't the right choice.
It's not The Ritz
The accommodations available in most rental motor homes are comfortable, yet simple. And it's a relatively small space, so it helps if you are very comfortable living in close quarters with your travel partners.
It's no Minivan
Although most modern motor homes behave predictably on the road, an RV won't accelerate as quickly, maneuver as nimbly, or stop as short as the car you drive every day. You just have to think a few seconds further ahead and be more cautious when making sharp turns. If you've ever driven a moving van, you have the basic idea. If you are concerned about the size of the vehicle, consider a smaller RV or perhaps a van conversion. For a comparison of the different RV types, follow this link: Choosing the Right RV. Also, have a look at Alice Zyetz's excellent advice at How to Rent an RV.
Next: Pros and Cons Planning Chart>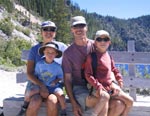 In 1994, Dan Wulfman and Sheri Ballard decided they'd had enough of the corporate "big time" - so they hit the road to explore their countries together (he's American and she's Canadian). Their brief sabbatical morphed into a life-altering two-year journey, taking them from the Artic Circle to Guatemala and just about everywhere in between. In 1998 they formed Tracks & Trails to help fellow travelers see the best of the west by RV. Dan and Sheri live in Grand Junction, Colorado. They love to travel with their two young sons and--of course--an RV.
The Tracks & Trails Web site features an excellent roadtrip planning guide with stunning photographs and superb trip routing suggestions.