RV Road Trip: Is it the Right Choice For You?
How to Decide Whether to Try an RV Adventure or Stick to Hotels
(Continued from Page 1) by Dan Wulfman
COMPARE YOUR OPTIONS
| | | |
| --- | --- | --- |
| | Car + Hotel | Recreational Vehicle |
| Comfort | Large, first-class hotel rooms are very comfortable, with good seating, good beds and spacious bathrooms (if you spend enough $). You may also occasionally find yourself listening to your neighbors partying while you try to sleep. | Modern motor homes are surprisingly spacious and comfortable, the larger ones having as much room as an average hotel room. Living and sleeping arrangements are comfortable for up to 5 or 6. You have a full kitchen, although with less counter space than you're used to at home, and the bathroom is usually snug but functional. You will usually have peace and quiet at night, unless you are camped very close to noisy neighbors. |
| Cost | Comfortable accommodations are available in some pretty remote places in The West, these days. But comfort comes at a price. The better hotels near major parks cost from $90-$250 per night. If you venture into a major city, say San Francisco, the sky's the limit. | For a group of four or more, traveling by RV can cost considerably less than driving a car and staying in respectable hotels. The biggest savings result from avoiding the cost of a second hotel room and preparing your own simple meals in the RV instead of eating three meals per day in restaurants. Of course, you always have the option of letting someone else do the cooking when there's a decent restaurant nearby. |
| Flexibility | During the summer, hotels must be booked well in advance of your trip. This locks you into a rigid itinerary, leaving no room for last-minute course changes due to weather, unforeseen delays, or an irresistible temptation to spend just one more day in a newfound paradise. | Although more and more major destinations (Yosemite National Park comes to mind) also fill up during the summer high season, availability is more flexible and last-minute alternatives are almost always available to the creative camper. |
| Maneuverability | Easy to drive. Easy to park. That's that. | A motor home is about 8 feet wide and twenty or thirty-something feet long. Most are built on a heavy-duty van chassis (think ambulance or delivery van), which has a familiar-feeling driving position and predictable handling. Finding a place to pull over for a quick look at an animal grazing beside the road can be tricky. Fortunately, many of the places you will visit routinely accommodate RVs and have separate areas for RV parking. |
| Convenience | In hotels you don't have to make your bed or do the dishes. Someone else does the dirty work, which may be one of your primary reasons for taking a vacation. | On the other hand, living out of a suitcase gets old after a few days, as does repeatedly unpacking and repacking a car. And, since you will depend on often-crowded restaurants for most of your meals, you will spend a significant amount of time foraging (and waiting) for food. While you do have to clean up after yourself and buy groceries, an RV is the ultimate in traveling convenience. Lunch takes place wherever you find a pretty place to pull over: a rest area, a State Park along your route, or a scenic turnout inside a National Park. Your clothes are always accessible in drawers and wardrobe closets. Beverages and snacks are as close as the refrigerator. An afternoon nap in air-conditioned comfort is even an option when you choose not to join your companions for the next extravehicular foray. |
| Proximity to Nature | Hotels usually isolate you from your surroundings. The sights and sounds of nature are obscured by parking lots, other buildings, and traffic noise. | Camping gets you much closer to the natural wonders that you came to experience. While some campgrounds are little more than parking lots, look for those that are situated away from traffic in scenic areas with trees (or rocks, if you are in the desert) and plenty of open space for an evening stroll. |
| Neighbors | The closest you usually come to getting to know your fellow guests at a holiday lodge is sitting next to them in the breakfast room slurping Cheerios. | Campgrounds seem to attract friendly people. You join a small temporary community every time you pull into a campground. You (and your children, if you have them) will meet all sorts of interesting folks from all over the place with all sorts of stories to tell. |

9/24/06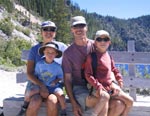 In 1994, Dan Wulfman and Sheri Ballard decided they'd had enough of the corporate "big time" - so they hit the road to explore their countries together (he's American and she's Canadian). Their brief sabbatical morphed into a life-altering two-year journey, taking them from the Artic Circle to Guatemala and just about everywhere in between. In 1998 they formed Tracks & Trails to help fellow travelers see the best of the west by RV. Dan and Sheri live in Grand Junction, Colorado. They love to travel with their two young sons and--of course--an RV.
The Tracks & Trails Web site features an excellent roadtrip planning guide with stunning photographs and superb trip routing suggestions.