The Road Wirer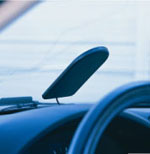 On display at CES: The new
ARC Freedom Antenna
boosts the effective transceiving power of hand-held cellular telephones
Dashboarding in the New Millennium: CES 2003
The Consumer Electronics Show, the annual extravaganza of consumer electronic products, ended yesterday in Las Vegas, Nevada. While I haven't yet had the chance to "kick the tires" of any of the products I've described in this article, in the coming weeks I'll report road-test findings as I try out some of the more promising offerings.
First, some overview commentary: Unlike last year where the mood of the conference was overshadowed by intense security procedures, anger, and pessimism in response to the terrorist act of September 11th, this year was characterized by an explosion of optimism and creativity. It was easy to wowed by the incredible range of electronic gadgets and gizmos on display and the extraordinary display quality of the flat plasma TV screens.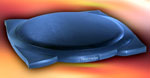 In-motion TV reception for SUVs: TracVision A5
Low-cost, high-speed mobile Internet connectivity has long been the "holy grail" sought by working and recreational dashboarders. This year, although relatively little has been accomplished toward achieving this long-sought goal, there are glimmers of progress. MotoSat, the manufacturers of the original Fixed/Mobile DirecWay two-way satellite system, received authorization from Hughes Network to begin marketing the system to the public after resolving some software issues. KVH Industries, which has been marketing a low-bandwidth, two-way satellite system enabling in-motion Internet access, announced some new pricing options. Certainly the most exciting development was the launch of their Phased Array TV antenna that is only 4 1/2 inches tall and can provide in-motion TV reception for SUVs and other vehicles. KVH V-President, Jim Dodez expects this revolutionary antenna's capabilities to be extended to Internet access sometime next year.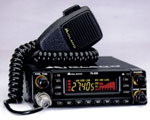 Midland's 79-290 Single-Side Band CB Radio has all-weather hazard channels and a removable security panel
Gizmos and other cool stuff: Full-range light dimmer switches on Cobra CB radios to ease night driving glare. Midland Radio dealers across the country will begin monitoring and providing travel assistance information on CB Channel 1 and Channel 1 on all FRS (Family Radio Service) and GMRS (General Mobile Radio Service) two-way way radios. Midland's 79-290 Single-Side Band CB features integrated all-weather hazard channels and a removable security panel that will be of great use to professional truck drivers. For SUV drivers, check out the "HitchCAM" that can be used to eliminate the 4 to 5-foot vertical blind spot at rear of vehicles. A small camera is mounted on the vehicle hitch receiver connected to a 3.5" color monitor which is mounted on the windshield. When backing up, the color monitor displays all obstacles within about 20 feet and even has low-light capabilities for backing up in the dark.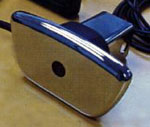 Affordably priced, the HitchCAM eliminates the vertical blind spot behind vehicles
The "Sidewinder" is a bit pricey at $25.00, but I think every dashboarder should consider keeping one on hand. The colorful egg-sized device allows a quick recharge of a cellular phone battery with about two minutes of hand cranking. The cranking motion also powers a very bright LED flash light. Equally cool is that it works for both right and left-hand crankers. Another product that offers a universal benefit to dashboarders is the ARC Freedom Antenna. This receiver can boost the effective transceiving power of hand-held cellular phones by about 2-3 times. What I especially like about it is that the antenna can be transferred easily from office desk to vehicle to rental car with no fuss. Retailing for about $50, it works on the full range of radio frequencies from 800 MHz to 3.5GHz. This means it is also useful for PDAs and all wireless communication devices.
Another company that has made RoadTrip Ameica's list for mobile office suppliers is Mark Comeaux's Interactive Products, Inc. Mark's firm has built some very innovative laptop mobile desks that were developed to prevent injuries from deployed airbags smacking into dashboarding equipment.
These are just a few of the hundreds of cool devices on display at the CES show. In the coming weeks, I'll be reporting the results of my road tests of a number of promising new dashboarding products.

Mark Sedenquist
Las Vegas, NV
January 13, 2003