World's Largest Natural Palm Oasis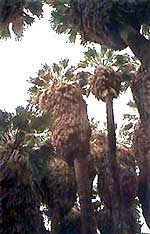 Palm Canyon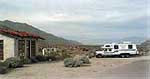 The Phoenix stops at the old filling station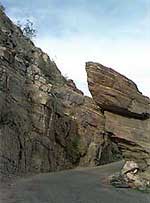 The infamous split rock: Too narrow for a big honkin' truck?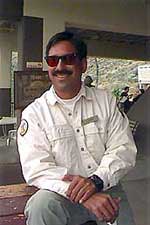 Larry Montez of Desert Safari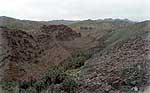 Two thousand Washintonia palms line the canyon for fifteen miles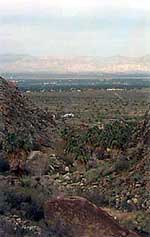 The white dot in the center is the Phoenix
back at the old filling station
PALM SPRINGS, CALIFORNIA—
Palm Springs rates with the best spots in world for beautiful-people-watching. A local chef once described his clientele as "the
creme de la creme
of the
creme de la creme
," which pretty much says it all.
The cars say the rest. As we drove down the main thoroughfare, we were followed by a new white Rolls Royce and flanked by a shiny new BMW convertible and a large silver Mercedes. It was heartening to see all three drivers stare at the Phoenix One. I'm not sure it means we've floated to the top of Palm Springs society, but we can't say we weren't noticed.
We were in a mood for natural beauty, so we headed for the southwest side of town to visit the world-renowned palm canyons that lie in the homeland of the Agua Caliente Band of Cahuilla Indians. We bounced along a narrow road until we arrived at the entrance kiosk. After we paid $5 each, the guard opened a large gate. "You can drive all the way to the old filling station," she said, "But you're too big to get through the split rock, so you'll have to walk on up the trading post." She gave us a sketch map and waved us through.
A short distance later, we came to a fork in the road. A narrow lane to the right led uphill. "It goes to Andreas Canyon," I said, looking at the map.
We climbed up the barren incline, and, as we rounded a bend in the road, we were in another world. There's nothing quite so unexpected in a desert as rushing water, but here it was, a torrent bursting from an otherwise arid mountainside. Hundreds of palm trees formed a cool canopy.
It would have been easy to stay all afternoon in such a spot, but after a picnic lunch, we climbed back into the Phoenix and rejoined the main road. Heading south, we soon arrived at the skeletal remains of "the old filling station." A large sign commanded all buses and RVs to park in the flat space next to it.
Mark said, "You know, we can probably fit through the split rock. Let's go on."
I said, "I think we better obey a sign for once. Let's park here and walk." Reluctantly, Mark agreed, and, leaving Marvin on duty, we proceeded on foot.
A stream ran along the road to our left. It held our attention until we came around a bend, and "Well, there it is," said Mark. Sure enough, a rock outcropping rose on both sides of the road. The split in the middle was plenty wide enough for a car, and even for a van.
"We would have gotten stuck at the top," I said, pointing up.
"Naw, we could've made it easily," said Mark. "I knew it."
"We would have crunched," I said.
"Would not," said Mark.
"Would, too." And suddenly we were at the top of the hill looking down on a sea of palm trees. We had arrived at Palm Canyon, the world's largest natural palm oasis.
Want to take a guided hike in the Indian Canyons of Palm Springs? Visit Desert Safari at
www.desertsafari.com
to find out how.
At the trading post, we met Larry Montez, canyon guide and owner of Desert Safari, a company that takes thousands of visitors every year on hiking tours in and around the palm oases. One of Desert Safari's most popular hiking treks is a moonlight expedition, which means Larry knows these canyons so well he can even guide visitors through them in the dark. We asked him why the canyons closed to the public every day at 5:00 p.m.
"The desert comes alive at night," he said. "It's a totally wild place, and as soon as it gets dark, everything comes out, coyotes, mountain lions, snakes, you name it. The first thing people do is light fires, and the risk of forest fire is extremely high."
Larry went on to tell us that Palm Canyon is fifteen miles long, stretching up the canyon that lay below us. "I don't know how much time you have, but if you climb down into the canyon, take the first trail off to your right. Even if you climb for only twenty minutes, you'll get to some good elevations."
We thanked Larry and headed into the canyon. It was already after two, and signs everywhere announced that any cars left in the canyons after five would be towed "at the owner's expense." Even though the Phoenix would present a challenge for a tow truck, we didn't want to risk unwanted removal, if only for Marvin's sake.
Larry was right. In only ten minutes of walking, we were high enough to see the upper reaches of the palm grove. In twenty minutes, we could see the whole length of the grove tucked into the rocky cleft like a hairy green caterpillar. Looking back the way we came, we could even see the Phoenix, a tiny dot far below.
At three o'clock, we reluctantly turned around and made our way back to the trading post and down the road toward the filling station. Before we reached the split rock, Larry pulled up next to us in a black Jeep. "Want a ride back down the hill?" he asked.
"Sure!" we said, and climbed in. "We were debating whether the Phoenix could fit through the split rock," said Mark.
"Oh, I think it could," said Larry. "Fire trucks get through."
"I knew it," gloated Mark.
"I hope this means we never have to try it," I said. "And anyway, I enjoyed the walk up."
Larry invited us back for a guided tour to some of the less-known sites in the canyons. "Or come for a moonlight hike," he said.
We will, even if it means we have to find out for certain whether the Phoenix will fit through the split rock.