The Age of Shovelry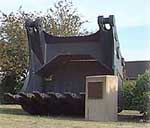 "Just a baby" bucket on display in Marion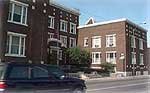 The Marion Power Shovel
Company, Marion Ohio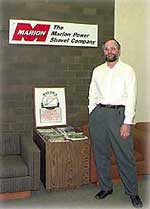 Peter Gilewicz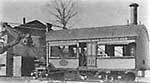 One of the originals: Steam shovel and wrecking car made by Marion Steam Shovel Company in the 1920's (Photo courtesy of Marion Power Shovel Co.)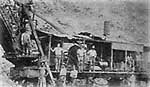 Marion at the Isthmus: The rig that dug the Panama Canal (Photo courtesy of Marion Power Shovel Co.)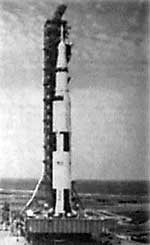 Everyone was looking at the rocket, but it was a Marion transporter that made launching possible (Photo courtesy of Marion Power Shovel Co.)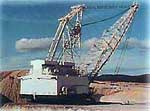 Monster shovel: A Marion Walking Dragline— The tiny brown dot to the right of the machine is a full-sized pickup truck (Photo courtesy of Marion Power Shovel Co.)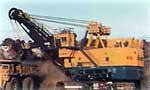 Crawler Mining Shovel (Photo courtesy of Marion Power Shovel Co.)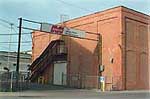 Quiet limbo:
Marion's factory
MARION, OHIO—
It was the same e-mail message that directed us to the Hocking Valley Train Station Restaurant that enticed us to drive through Marion, Ohio. "It's the home of President Warren G. Harding, the Marion power shovel that built the Panama Canal and Paul Newman Popcorn," read the missive from Chris, a native Ohioan who now lives in Los Angeles.
We drove through town looking for steam shovels, and came upon a big bucket by the side of the road. The plaque on it read, "Marion Steam Shovel Company Plant, Est. 1884." It didn't say anything about the Panama Canal, so we went across the street toward what looked like an office building to make enquiries.
The receptionist inside told us that the bucket we'd seen was just a baby. She introduced us to Peter Gilewicz, who took the time to give us a brief history of the power shovel and the company that's been making them for over a century.
"You've arrived here at the end of an era," he said. "Marion has been purchased by its competitor, and the plant will probably close down soon. Our products are used mainly for coal mining, and demand for them has decreased."
Marion started its illustrious history as the Marion Steam Shovel Company. Marion shovels were used extensively in the building of the Panama Canal. By the end of the 1920's, steam had passed into history as a power source, and Marion changed its name to Marion Power Shovel Company. Today's huge Walking Draglines are powered by electricity.
Marion equipment has been on hand for numerous other engineering triumphs. In June, 1931, the contract to provide shovels for the Hoover Dam project was awarded to Marion, and in the sixties, Marion built special crawler transporters for moving launch vehicles and their payloads from the staging building to the launch pad at Cape Canaveral. The transporter used in the Apollo program is still used today for launching the Space Shuttle.
The most impressive item in Marion's current product line is the Walking Dragline. One of these monsters is bigger than a supermarket, and its bucket can dig a swimming pool in one scoop. The pieces are made at the Marion plant and shipped to the site, usually a coal mine. A team of welders, electricians and engineers arrives to assemble everything, a project that takes as long as a year. When it's complete, the Dragline really does 'walk.' It has two feet that allow it to move itself backwards, robot- style. In addition, it can swivel 360 degrees, and the biggest models have a dump range longer than a football field. Want one? For a mere US$50 million, you can own your own.
Peter also told us about the Crawler Draglines and Mining Shovels that use tank-like treads to move, and explained how machines this big can operate on electricity. "Mines have their own substations," he said, "And the Draglines are connected by a massive cable." Believe it or not, these monsters actually operate by extension cord!
At its height, Marion Power Shovel employed over 2,500 people. Now that number has shrunk to around 300. The plant was quiet the day we visited. "We're in a sort of limbo," said Peter. "The purchasing company is based in Wisconsin, and we'll just have to see what happens." We left Marion and headed southwest toward Cincinnati, glad to have been able to say hello before the town has to say good-bye to the shovels that have carried its name since 1884.