Best Little Tour by a Dam Site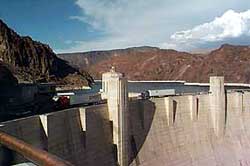 Hoover Dam, looking north over Lake Mead
City of Lights. It's an obvious nickname for Las Vegas as the Strip creeps southward and skyward in an ever-expanding phantasmagoria of neon. Perhaps it's no surprise that one of the most popular tourist destinations in Southern Nevada is one of the sources of all those kilowatts. Yes, Hoover Dam is right up there with theme park hotels when it comes to drawing a crowd. A million visitors a year head southeast from the city to Black Canyon, where 616 million tons of concrete have been providing the wherewithal to generate countless megawatts since 1935.
We joined the throng last week on what Las Vegans call a 'cool' summer day. It was 'only' 105 degrees, which meant it was still warm enough to brew tea on the face of the dam, but it wasn't hot enough to fry eggs. Even so, we were glad we remembered to bring hats with brims.
We stopped first at the Visitors' Center, which has covered parking and lots of photos and displays that show how the dam was built. We watched a half-hour movie, too, but it was less than satisfying. Filmed in 1936, it was a scratchy, black-and-white propaganda piece that romanticized the obvious dangers faced by the men who risked their lives to build the dam. The 'facts' were all out of date, too, and we left the theater hoping our tour would be more enlightening.
There are three tour options available to dam visitors: 'regular,' 'hard hat,' and 'exhibits only.' We opted for the 'hard hat' tour, not only because it promised a better look at the inside of the dam, but also because the tour group size is smaller. And hey, you get to keep your hard hat.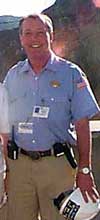 Dan McRoberts
At the appointed time, we set out with Dan McRoberts, who has been giving tours of Hoover Dam since 1983. A fountain of fascinating information, Dan told us how the dam's massive size had ignited fears abroad that building it might throw the earth off its axis. "And there are no bodies trapped in the concrete," he said, laying a pervasive rumor to rest. Hundreds of men died building the dam, but carbon monoxide was the most common killer. There was no ventilation in the tunnels, and men called "chasers" would run in every twelve minutes to drag out anyone who had collapsed. Needless to say, the "chasers" were not always successful.
As dangerous as it was to work on the dam, the Great Depression made the wages and housing attractive. From 1931 to 1935, more than 16, 000 men worked on Hoover Dam. In 1983, a reunion was held in Boulder City, and over a thousand men attended. In 1999, at a subsequent reunion, the youngest attendee was 87 years old.
Not for claustrophobiacs: access tunnel
on the side of Black Canyon
My favorite part of the tour was when we got to walk through a tunnel (claustrophobiacs beware!) about seven feet in diameter. At the end, we peeked out through louvers (acrophobiacs beware!) approximately halfway up the face of the dam. Yikes.
Inside, all is turbines, although, as Dan explained, the dam was really built to control the Colorado River, not create electricity. It's the sale of electrical power, however, that has made Hoover Dam a monetary success. The dam paid for itself with interest a long time ago, and it continues to turn a profit selling power to western cities.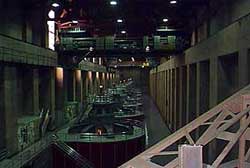 Electricity-producing turbines
One of the most amazing things about Hoover Dam is that, in addition to its other functions, it is a highway. No other bridge spans the river in the area, which means the dam's two lanes are always chock full of eighteen-wheelers, crawling along amid all the pedestrian tourists. This could change in a few years, if plans to build a bypass come to fruition.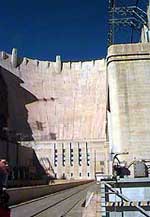 726.4 vertical feet of concrete
Now that I've taken the 'hard hat' tour, I can fully appreciate why so many other tourists make the pilgrimage to Black Canyon every day. It may not be the biggest and tallest and newest and most expensive any more, but Hoover Dam's a wonder nonetheless. And while you need to see it soon if you want to catch big rigs using it for a highway, there's no rush in any other respect. According to Dan McRoberts, Hoover Dam's life expectancy is another four or five thousand years. Yikes. Just think what the Strip might look like in the year 7000.
Megan
8/00