Flying Paddlewheels! The Spirit of Jefferson challenges the Tom Sawyer to a sunrise riverboat race on the Ohio River
LOUISVILLE, KENTUCKY—

Passing under the Clark Memorial Bridge, the
Tom Sawyer
takes an early lead in her race with Louisville's
Spirit of Jefferson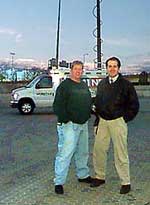 Fox-41 Reporter John Graham, right, and photographer Philip Lee
"Join us next to the Great Lawn at 6:30." It was John Graham talking, and we agreed to an early morning rendezvous on the banks of the Ohio River in Louisville, Kentucky.
John is the Live Reporter for Fox in the Morning, which means he knows about everything and everybody who's doing anything interesting in bluegrass country. He invited us to Louisville to be his guests on Fox-41, and our visit was happily coinciding with a race.
No, not a horse race, which is what you might guess in Churchill Downs territory. This early morning contest was something a little more unusual: a riverboat race. Two grand vessels were set to battle it out, the Spirit of Jefferson and the Tom Sawyer. The Spirit of Jefferson is the local darling, and the Tom Sawyer, who was on her way home from an event in Cincinnati, hails from St. Louis.
There was more to the competition, we soon found out, than met the eye. The Spirit of Jefferson once called St. Louis home, too, and she used to be called the Huck Finn. The two boats used to race each other regularly, and their meeting on the Ohio was a sentimental rematch.
A whistle blast from another boat, the Belle of Louisville, signaled the start of the race, and the two boats passed under Clark Memorial Bridge. Louisville Mayor Dave Armstrong waved enthusiastically from the deck of the Spirit, but the Tom Sawyer was in a lead she maintained until the boats passed us and moved down the river to their turning point at the Louisville Water Tower.

The
Spirit of Jefferson
pulls ahead to victory!
It wasn't long before the two boats appeared again in the distance. Neck-and-neck, they neared the finish line, and it looked as though the Tom Sawyer was going to beat the hometown favorite. But no! At the last minute, the Spirit pulled ahead, winning the race by less than half a length.
The Tom Sawyer, in a hurry to meet a tight cruise schedule back in St. Louis, didn't pause at the finish line, and soon she was gone up the river. The Spirit of Jefferson was left to bask on her laurels alone, a victory she was adding to two more she'd earned in Cincinnati the week before.
The day was still young as we pulled away from the banks of the Ohio, and, following John's recommendation, we headed to Lynn's Paradise Cafe for breakfast. "You'll recognize it by the giant coffee pot out front, and all the concrete animals." Louisville was proving to be far more than the site of a famous horse race.