Restaurants of the Road
More Eateries

Lynn's Paradise Cafe
Louisville, Kentucky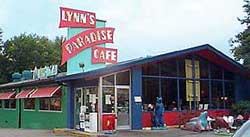 OCTOBER, 1999

"You'll recognize it by the big coffee pot out in front, and all the concrete statuary," John Graham had told us.
John is the Morning Reporter for Fox-41 in Louisville, the person to ask if you want to know everything interesting about Kentucky. We'd met him at an early morning riverboat race, and now we were following his advice and having breakfast at Lynn's Paradise Cafe.
The coffee pot, which was large and red, was also a fountain. Behind it lurked a gaudy gathering of concrete wildlife including a purple buffalo, a lavender crocodile, and a blue bear. Behind that was Lynn's Paradise Cafe itself, its bright colors and glittery sign giving a boost to a gray morning.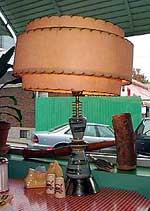 Inside, Lynn's is a huge room with a high ceiling and large windows. A large white tree decorated with hundreds of painted eggs stands in the center, and more unusual artwork hangs on all available wall space. Every table sports a one-of-a-kind lamp and a pair of genuinely kitschy salt and pepper shakers.
We sat down, but it wasn't long before I had to stand up to take a closer look at an eye-catching mobile hanging from the ceiling.
"You won't believe this," I said to Mark when I returned. "It's made out of thousands of tea bags." Mark had to take a closer look, too.
We didn't have the good fortune to meet Lynn Winter, the creative force behind the quirky decor and creative menu, but our helpful server brought us a book in which Lynn was featured. A native of Louisville, she'd spent time on the north coast of California as an artist. Finding her true calling as a restauranteur, she'd eventually returned to Kentucky to start Lynn's.
Our breakfast was superb, from the western flavor of a breakfast burrito to the southern yumminess of cheese grits. And the east hasn't been left out, either. Mark had the Manhattan Scramble. It made us wish we could come back for lunch so we could enjoy more of Lynn's eclectic menu. Check it out at lynnsparadisecafe.com, and you'll see what I mean.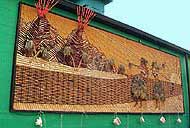 As we departed, we passed one of Lynn's exterior works of art, an enormous mosaic created mostly from cobs of dried Indian corn. It was an island scene, with grass-skirted dancers swaying to the sounds of the sea.
How do I know about the sound? This mural has audio. You just pick up any one of the conch shells hanging at the bottom and hold it to your ear. Then you bid farewell to a green moose and hope that someday, you'll be able to return to Lynn's Paradise Cafe.