The Phoenix One Journals Stories from the dawn of RoadTrip America
July 4, 1999
From McKinleyville, California, to St. Helens, Oregon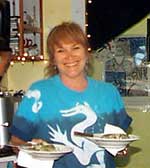 Helen Gale
After enjoying the hospitality of Helen Gale at the Blue Moon Cafe in McKinleyville, California, (Look for the sign on Central the lasagna, salads and soups are magnificent), we headed north on the coast highway. The sun was already low on the horizon, and we had to be in Portland in time for a television appearance first thing in the morning. "It's an eight-hour drive," a friendly truck driver told us, "And remember to tune your CB radio to channel 17. Everybody uses 19 south of here, but they switch to 17 north of Eureka."
He also mentioned that the road from the coast to Grant's Pass had some narrow stretches, but I admit I didn't pay much attention. He was talking about big rigs, I shrugged to myself. Surely we'd have nothing to worry about.
Mark tuned the CB to 17, and we settled in for an all-nighter, expecting to pull into Portland in time to shower and dress for our appearance on AM Northwest. The weather was mild, and our only challenge was to fend off sleep. To that end, I'd brewed a big jug of coffee.
At Crescent City, we picked up Highway 199 to Grant's Pass. We sipped our coffee and listened to the intermittent banter of truck drivers on the radio. The road was curvy, but that didn't stop an eighteen-wheeler from roaring past us. "That guy really knows this road," said Mark, and he picked up the radio to compliment the driver.
"I drive this route four times every day," came the reply. "I haul chips and sawdust from Crescent City to Merlin."
We continued to chat, and soon the trucker said, "We're coming to the narrows. I'll get you through." He was right behind us know, and his voice came through clearly on the radio, "Northbound through Patrick Creek." Another voice responded, "I'm waiting around the dogleg."
We slowed to a crawl, and we did it in the nick of time. The road narrowed to little more than a lane, bordered on one side by a sheer rock face and the other by a steep drop-off. There was no shoulder and no guard rail.
Sure enough, the front end of a huge tractor greeted us as we crept around the bend. Doug, our escort, followed, and the road widened.
"You got it," said the southbound truck to our guide, "But I've got to ask. What the heck is that thing in front of you?"
We continued north, and Doug saw us through two more tight stretches. "I've seen trucks shear off their mirrors in these spots," he said, "And of course a lot worse things can happen. You've got to take them seriously."
At Grant's Pass, we joined Interstate 5 and headed north. After pausing in a rest stop to thank Doug in person for saving at least our mirrors and possibly our lives, we rolled on. It'll be a piece of cake now, we thought, all smooth sailing into Portland.
Nope. Not very many miles had passed under us when we met another highway challenge. A pickup truck had smashed into the concrete median and was blocking the fast lane on a downhill slope just past a curve. Eighteen wheelers were hurtling down the grade, and it was obvious from the moment we saw the accident that it might easily turn into an even bigger nightmare.
Mark pulled over and jumped out. He ran back up the hill to warn trucks to slow down, and I dialed 911. The accident had already been reported, and help was on the way. Miraculously, no one was seriously hurt, and the driver of the pickup truck was able to call his family from our cell phone.
Again we headed north, and the excitement worked better than caffeine to keep us awake. We made it to Portland with time to spare, and our interview on AM Northwest went swimmingly.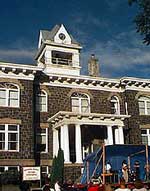 St. Helens' historic town hall
On July 3, we drove northwest along the Columbia River to the historic town of St. Helens. After a talk and book signing at the St. Helens Book Shop, we headed for the historic district. The Phoenix One would be joining the Fourth of July celebration. Sales of Roads from the Ashes would benefit the Columbia County Women's Resource Center.
We spent two nights in St. Helens' town square. Bands played on the courthouse steps, and at night, fireworks launched from a spit in the river filled the sky.
Mike Fousie joined us in St. Helens. We'd been in touch with him by e-mail for nearly two years, and at last we had the pleasure of meeting in the flesh. Mike, who is a videographer with KATU (ABC) in Portland, has pioneered innovative photographic techniques for Web sites if you want an awesome experience, just visit his site: www.lightcurve.com, and you'll soon be able to view his handiwork on RoadTrip America. He's creating a virtual tour of the interior of the Phoenix One!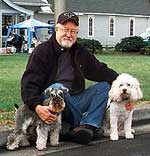 Mike Fousie with Mac & Marvin
Mike also has a marvelous canine friend, Mac. He's a miniature schnauzer who hit it off with Marvin immediately. Marvin, by the way, was happy to see the end of the Fourth of July weekend. He hates fireworks and detests rock music. Lucky for him Independence Day comes only once a year.
Megan
St. Helens, California
July 4, 1999