The Phoenix One Journals Stories from the dawn of RoadTrip America
A Short Sojourn in Beverly Hills...
Al Martinez
You haven't heard from me in while, and you may think this means that Mark and I no longer lead a life in motion. Well, here's a little story to let you know that we're still out there.
We had just had tea with Al Martinez, whose column in the Los Angeles Times is one of its best- loved features. (If you don't live in LA, you can still enjoy his evocative prose Tuesdays and Fridays online at www.latimes.com
As the sun slid down over Pacific Palisades, we headed east. It was prime traffic time, and we decided it might be more interesting to make our way across Los Angeles on Wilshire Boulevard than to sit immobile on a crepuscular freeway.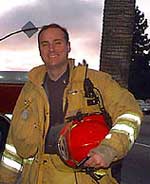 Herb Kirchner of the Beverly Hills Fire Department
And it was more interesting. Wilshire Boulevard is a world-class thoroughfare, lined with glittery buildings, alive with big city bustle. We were enjoying the urban landscape immensely when, "#$%*@!!" Mark exclaimed. "We're on fire!"
The cab had filled with smoke, and Mark quickly pulled to the side of the street. We were in a "no parking" zone, but our only other option was to drive into a gas station. "I don't want to go in there while we're burning," said Mark, and I could see his point.
I jumped out of the cab with Marvin and ran to the gas station cashier. "Please call 911!" I shouted. "Our truck's on fire!" The man in the cage complied immediately, and I ran back to the Phoenix. Mark had opened the engine compartment, and smoke was still billowing inside the cab.
Within minutes, we were joined by the Beverly Hills Fire Department, whose members disengaged all our batteries and made sure there were no flames in secret places. They left when they were sure we wouldn't explode, and there we sat, blocking the right lane of LA's most heavily traveled surface street in the middle of rush hour.
We sat there for four hours, during which time we burned up all the safety flares we've been carrying for the last five years. After about two hours, the tow truck Mark had summoned arrived, but for a variety of reasons, it was unsuited for the job of moving the Phoenix One. In the end, it took a "Supertow," a truck designed to haul big rigs, to dislodge us from our spot.
At around 10:30, we finally climbed into the cab of a truck from Tom John's towing, and Tom Wallace removed us all the way to Paul's Truck & Auto in Pasadena, a distance of 35 miles. Marvin was none too thrilled to ride in the Phoenix by himself, but he hunkered down in the driver's seat and made the best of it.
The best part of the story (besides the fact that we didn't erupt in flames) is that the morning of the very same day, we made our last payment on the Phoenix. What do you call that? Poetic justice? Amusing irony? Whatever it is, fast work on the part of the staff at Paul's meant that we could head north only a few days later. I'm writing this in Santa Cruz, and tomorrow the Phoenix (good thing she didn't incinerate herself) is getting a whole new look at a place called Super Graphics in Sunnyvale. Please stop by next week for a look at the same old bird with a new set of feathers!
Megan
Pasadena, California
March 22, 1999