The Phoenix One Journals Stories from the dawn of RoadTrip America
November 8, 1998
Virginia City, Nevada
If you've ever had the feeling that government was too distant, or that your vote couldn't possibly count, you might want to spend an election night in a small county. Take Storey County, Nevada, for instance, where the number of registered voters hovers somewhere around two thousand.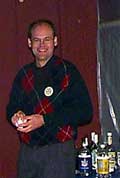 Bartender Mark
We spent election night with Pat and Peggy Whitten at their RV Park in Virginia City. Pat was running for sheriff, and he'd invited everyone for miles around to come to a party and watch the returns come in. Peggy had made a mountain of Mexican food, and Mark and I had signed on as volunteer bar tenders.

The party started at six, and the polls closed at seven. Not long after that, numbers began to arrive by fax to the RV Park office. They were rushed to party central, where Russ Collingwood wrote them on a white board.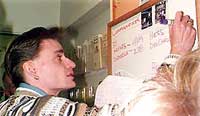 Russ Collingwood posts returns hot off the fax
By eight o'clock, three hundred people had packed themselves into spaces normally occupied by a dozen. "Free food and drink will do that," said Peggy, but the crowd cheered mightily as Pat took an early lead.

Mark and I were serving drinks in a tent outside. The main attraction was a large vat of blue margaritas, the recipe of a long-time Virginia City resident. The level in the vat sank rapidly, and so did a second. By the time Pat Whitten was being congratulated as Storey County's new sheriff, a third was halfway to empty. It was a heck of a celebration.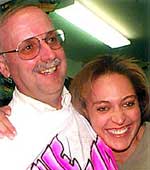 Pat Whitten, Storey County's new sheriff, is congratulated by LaRinda Clarke
Two days later, Mark and I attended the meeting of the County Commissioners at which the election results were made official. Pat Whitten had won his race with nearly 75% of the vote. I thought of my own vote, which had found its way via absentee ballot into the paper mountain in Los Angeles County, California. I had no doubt it counted, but I believed it in the abstract, in the same way I know that every drop of water is important to creating an ocean. I had to believe without tangible proof.
As we left the courthouse in Storey County, Nevada, I couldn't help feeling a little jealous of people who experience the effect of their votes personally, who know they will be missed if they fail to make it to the polls. I like the idea of a place where democracy can be seen with the naked eye and felt in the handshake of a newly elected sheriff.
Megan
Virginia City, Nevada
November 8, 1998
Click here to read "If You Keep Going, Soon You Will Be Gone"