The Phoenix One Journals Stories from the dawn of RoadTrip America
March, 1998
Milepost 115,000
On the Road and Online...
FOUR YEARS BEHIND THE WHEEL

Phoenix One meets Kissmobile in Los Angeles
March 29, 1998, marks the fourth anniversary of the day the Phoenix One left Pasadena, California, and headed for the horizon. We're still rolling, and, as Jerry Garcia might have put it, "What a long, strange trip it's been."
Our assumptions have shifted nearly as often as our location. For starters, we thought six months would be more than enough time to cure our wanderlust forever. But half a year after we started driving, we were in Idaho, which meant, in the simplest geographical terms, we'd hardly begun. Idaho is separated from California by only one other state. We'd been moseying for months, and we couldn't even see the Rockies in the distance.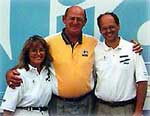 Megan and Mark meet Ray Nitschke in Green Bay, Wisconsin
It's not that we had set any particular goals for passing a certain number of mile markers or visiting every tourist trap between Key West and Fairbanks. We had no particular itinerary at all, just a yen to hit a road and keep on driving. Even so, I found myself assessing each new place with a view to calling it home. Home had always been a geographical point, after all. Wasn't that part ofthe definition?
Then one day home wasn't a place any more. We were watching the dawn over the Sangre de Cristo Mountains near Angel Fire, New Mexico. "If we're always looking for home, we're always looking for the end of the journey," said Mark. "I'd rather enjoy the ride." A hawk soared overhead, his wings illuminated by the rising sun. "Like him," he added, and suddenly, the search ended. How can you look for home when you're already there?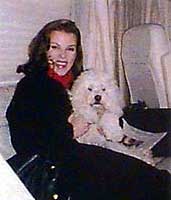 Marvin the Road Dog meets Debi Mazar in New York City
Since then, we've been home for another hundred thousand miles. Last year, we gave the Phoenix a rest and drove a promotional vehicle on a nationwide publicity tour. It meant transferring our belongings to another truck, but it didn't mean leaving home. Once you've become a true nomad, home really is wherever you are, whether it's Times Square or Sequoia.
"But what about people?" you ask. "Home's about family. Home's about friends." It's true, and 115,000 miles of wandering has drawn our circle wide. Our families, like those of most North Americans, are spread across the continent. We have friends from Plymouth Rock to Drake's Bay, from Sitka to South Padre Island.
And those are only the ones we know in person. Our journey has coincided exactly with the explosion of the Internet. Back in 1994, we were all learning new jargon like "e-mail" and "online." In 1998, the communication revolution is in full swing. Thanks to the World Wide Web, our network of friends and family circles the globe.
We find ourselves saying that we live in cyberspace. It's a fact that "www.RoadTripAmerica.com" is our most permanent address, and the most reliable way to reach us is usually e-mail. The line between virtual and actual often blurs.
But there's nothing virtual about turkey, and every holiday season since we began our migratory existence, we've found ourselves with family. The virtual universe offers wonderful connections, but Mom lights candles and gets out the good china.
Is home a place after all? A hearth and hat stand? No, even Thanksgiving dinner can't fool me. Home's not a place, and it's even more than people. We can't claim credit for being the first to notice it, but home is where your heart is.
Our hearts are still on the road. Our front yard stretches to the Gulf of Mexico, and the back goes all the way to Prudhoe Bay. That's the Golden Gate out this window and Chesapeake Bay out that one. If you're in the neighborhood, please stop by for a cup of coffee.
Yours from the road,
Mark & Megan