The Phoenix One Journals Stories from the dawn of RoadTrip America
Chicago, Illinois
October 31, 1994
THREE Ms REUNITED IN TIME FOR HALLOWEEN!
October has always been a special month of discovery for me. In many ways and for a number of years it has seemed to signify the beginning of a new year much more than January does. Personal relationships and business alliances have been "created" during these magical days of autumn. It seems appropriate that the Kinneloa Wildfire of October 27, 1993 also occurred during this remarkable period. It is amazing how such an event of relatively short duration, 24 hours, could so markedly change my perspective about lifestyles, love, professional aspirations and how life works. For me, living is not an intellectual study, and feeling the bumps, stumbles and moments of gliding is vital to gain any measure of wisdom in this grand adventure.
October has been quite amazing! Reviewing the many places that I've visited and the people who've crossed my path, it is hard to believe that it all happened in thirty-one days. Since last month, the Phoenix One has covered more than 5600 miles. Much of that was a circuitous route around the beautiful mountains of Idaho and southwestern Montana. While most of the roads were paved, some bore resemblance to ski chutes, complete with moguls and unexpected twists. The morning views from my "bedroom suite" included the following: Dworshak Reservoir, Cataldo, Meadows, Warm Springs, Craters of the Moon, and Heise Hot Springs, Idaho; Spokane, Washington; Lolo Hot Springs, Slate Creek, Bitterroot National Forest, Butte, and Hardin, Montana; Badlands National Monument, South Dakota; Camden and Forrestville State Parks, Minnesota; Pikes Peak State Park, Iowa; Yorkville, Illinois; and O'Hare Airport in Chicago.
Like much of our journey, this adventure has been nourished and supported by the people we have met. On one memorable day, the electronic brain of the Phoenix suffered a seizure caused by an improperly secured grounding wire. The symptoms included rapid fluctuations of the pulse (rpm) of the engine and repeated stalling of the truck at highway speeds. It is a truly invigorating experience to lose power steering, braking and general control of a seven-ton vehicle while traveling at cruising speed. After stopping at a closed scale 4 miles east of Arco, Idaho, the Phoenix was rescued by Terry & Brad Thode. Earlier on this adventure, we had met them while we were in Banff. Terry and Brad were returning home from Idaho Falls and, upon seeing the Phoenix sidelined, executed a nifty U-turn and eventually towed us back to Arco. Despite a garage full of other clients' vehicles, Gene Davies & Delton Humphreys worked diligently to locate and resolve the electrical snafu, and within a few hours the Phoenix was on its way again.
Marvin is not too fond of tires that blow out their sidewalls at over 65 miles per hour, (an event that happened again this month), so the work that Macy Cotte completed in Spokane is appreciated. Macy and his associates at the Kenworth shop repaired and re-mounted some vital equipment that had not been properly installed by the manufacturer, including the rear axles (!), fuel filter and electrical components. The Phoenix is getting considerably more use than a typical RV might receive in a similar period of time, and my mechanical education is continuing at a brisk pace.
We have been blessed with a number of remarkable conversations and have received a number of letters and cards this month which we've enjoyed greatly. Some of our new friends are: Duane & Wanda Williamson, Tom & Lisa Kendall, Scott Morgan, Richard Conant, Burnel Walker & Dick Ackerman, Douglas Henning, Shane at J&R Rigging, Bill House, Aaron & Jay Hoppe, Lee Sodaro and the Service Crew at Discount Tire in Spokane who have played an unexpectedly active role in the progress of the Phoenix One in recent weeks.
Winter is nearly upon us. A couple of good books I've enjoyed are Itzhak Bentov's Stalking the Wild Pendulum, which has changed the way I view inanimate objects, and The Life You Were Born to Live, by Dan Millman. It is becoming difficult to locate open campgrounds here in the snow-belt areas, and this may encourage us to head in a more southerly direction. But then again, maybe it won't! We still have no real itinerary... It has been a memorable fall on the Phoenix trail, and I hope it's been a good one for you as well. I really like hearing from you -- drop me a line when you have the time!
MEANWHILE IN THE EAST...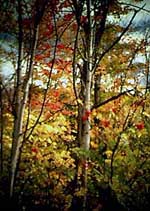 I continued my sojourn in montreal during October, and spent a week hiking in the White Mountains in New Hampshire at the height of "leaf season." My biggest undertaking was a climb up Carter Dome, which turned out to be a much longer trek than I'd anticipated. This meant a couple of hours of hiking in the dark, which I don't recommend. The White Mountains, however, I strongly recommend.
There are trails everywhere. The Flume Gorge is unforgettable -- sheer rock walls and fifty-foot falls cascading down the canyon. Mount Washington, the tallest peak in the area, offered splendid views of fall color, a rare sight, because it's usually shrouded in mist. Intrepid people hike up Mount Washington, but I rode up the auto road in a "stage," which was actually a four-wheel drive van. There's also a cogwheel train that makes the climb.
Of course, no trip to New Hampshire can be complete without a look at The Old Man of the Mountain, that rocky profile immortalized in Nathaniel Hawthorne's "The Great Stone Face." I rounded out the excursion with a trip to an agricultural fair in Maine, where I drank apple cider, watched the horse pulling competition and heard some terrific local accents.
I joined Mark and the Phoenix in Chicago, and right now we're headed up to Wisconsin, where we hope to catch a glimpse of the Great White Buffalo that is attracting so much attention these days.
Winter's closing in. There are still trees here wearing their autumn leaves, but the piles on the ground are winning. I like the notion of heading south, but Mark has already become skilled at facing the weather and seems eager to experience a "real winter." Fortunately the vehicle should be able to provide adequate shelter. I, however, will need something to thicken my Southern California blood! I've already invested in a set of long underwear...