The Phoenix One Journals Stories from the dawn of RoadTrip America
Pierce, Idaho & Montreal, Quebec
September 30, 1994

IT'S AUTUMN, AND WE'RE TWO PLACES AT ONCE! Read on...
The calendar shows that fall has begun, but it is still a glorious summer here in the alpine valleys northeast of Pierce, Idaho. Spawning salmon, elk, wild turkeys, ancient cedar groves and the flaming red and yellow foliage surround the Eden known as the north fork of the Clearwater River. If you are ever near here, be sure and drive along FR 255. If you come now, remember that it's bow hunting season, and leave your antler-equipped Bullwinkle hat at home.
After leaving Fairmont Hot Springs in late August, we made our way west to the Kootenay Lake region of British Columbia. Nelson has the feel of Berkeley, with its blend of conservative values and visible counter-culture youth. Len and Yvonne Shewfelt were kind and hospitable hosts while we enjoyed their Kokanee RV Park at Balfour.
Len undertook some diligent detective work and located an errant UPS package for us. Jack Zeeman, a skilled cabinet maker, installed some new glides in our file drawer. It had fallen out a couple of times on the road, strewing papers everywhere. The new glides will keep our records and tempers intact.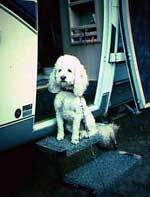 Labor Day Weekend found the Phoenix sans Megan, deep in a grizzly habitat in the Kanisku Forest near the mountain border of Washington and Idaho. While we did not get to see a Grizz (darn!), it is possible that a member of the bruin family did come close enough to check us out. At one point, Marvin looked at a clump of brush like it was a ghost. I sensed a shift of energy, so we decided to stroll casually back to the relative safety of the Phoenix. Maybe it was only a flight of fancy. Then again...
Marvin and I were fortunate to be guests of Shirley, Claude and Sassy Sedenquist at their elegant "log cabin" overlooking the Columbia River in Kettle Falls, Washington. Marvin was delighted to have the run of the house. The meals prepared by Claude, a fantastic chef, were excellent.
Everything evolves. Coach #115, as it was called by its Revcon Co. builders, continues its transformation into the Phoenix One. A number of skilled craftsmen and their associates, Chris Bennett, Dave Weber, Mike Tolley, Terry Fowler, Dave Grim, and the chassis wizards at Williams Equipment are engaged in the process. If you ever think about buying a Revcon, our experiences with their ideas about post-purchase customer service may be of interest to you.
The Phoenix One continues to be "quite the ride." This last month we've met Don & Nancy Pintler, Tony & Candace Frary, Joseph Toombs, Bob & Norma Wiggins, Win & Carolyn Wilsie, Harry Lewellyn, Vern & Betty Blank, Richard Quattropane. Thanks to the staff at Pre-Post Color in Coeur d'Alene, Idaho, for their help with our newsletter production.
AND FROM THE OTHER SIDE OF THE CONTINENT...
September is usually a month of transition. Kids go back to school, leaves fall off the trees, and folks in RV's go to Florida. Mark and I are doing our own seasonal shift, but we've picked our own peculiar way to follow the trend.
Early in September, I headed for the Monterey Peninsula in California. After a lovely Labor Day weekend by the sea in Pacific Grove, I flew to Baltimore and explored a bit of the east coast. My tour has included such delights as the Air and Space Museum in Washington D. C., where I wandered through that amazing forest of space age contraptions and every identified flying object that has ever existed, even if it wasn't made by an American. An Imax movie filmed from the space shuttle and narrated by Leonard Nimoy sums up the slightly surreal atmosphere of this place, where Star Trek and real stuff are hard to tell apart.
While I'm on the subject of surrealism, I must mention another excursion into never-never land I took in Hershey, Pennsylvania. You'll want to check this place out for yourself. Drive to the corner of Chocolate Avenue and Cocoa Street and look up. The street lights are not shaped like Hershey's kisses by accident. Now go on down the road until you get to a sign that says, "the fun starts here." The sign is not kidding. You are about to arrive at Chocolate World, where the glorification of the cocoa bean takes second place only to the deification of Milton Snavely Hershey.
Not that Milt doesn't deserve the praise. He created Hershey out of nothing, and now it's the home of the largest chocolate factory in the galaxy, not to mention THE GREAT AMERICAN CHOCOLATE BAR. Drink your Reese's (Hershey owns that outfit, too) Peanut Butter Cup milk shake, hear the fabulous story of Milton Snavely's life, and ride through Chocolate World in a kiss-shaped car. At the end you'll get a free Hershey bar, but you'll also get something that lasts a whole lot longer. It's been two weeks, and I'm still infected with the Hershey national anthem, which was etched permanently onto my brain by a couple hundred video images with perfect high-pitched enunciation. You, too, will leave Chocolate World humming, "Her-shey's Cho-co-late, Her-shey's Cho-co-late, " and the only cure is a ride on "Small World" at Disneyland.
A drive through Lancaster County in Pennsylvania offered a taste of Amish life and Mennonite cooking. In New York I discovered Chittenango, a town that boasts L. Frank Baum as its most famous citizen and has yellow brick sidewalks. The trees in the Adirondacks had begun their fall performance, and the overwhelming collage of color reminded me that California doesn't have everything after all. For great-looking autumns, the east coast gets the gold.
North of the Adirondacks is Canada, and now I'm in Montreal, where lumberjacks eat crèpes, and the blend of Canadian and French is delightfully omnipresent. For me, this means primarily that I'm dining awfully well.
My next destination is wherever the Phoenix One stays long enough for me to join it. We're coming up on the one-year anniversary of the fire that nudged us out on the road. If anybody had asked me a year ago where I'd be today, I'd have certainly predicted wrong. Yep, life is really something.