The Phoenix One Journals Stories from the dawn of RoadTrip America
Fairmont Hot Springs, British Columbia
August 25, 1994

TYPICAL TOURISTS— GETTING SOAKED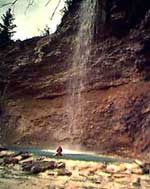 We racked up some major miles in August! We're still in the West, but we have actually gotten into a different time zone. Right now we're taking the waters in Fairmont, British Columbia, famous for its marvelous hot springs. Enough hot water gushes out of the mountain to fill four swimming pools (big ones) every day. They're drained at night, and by 8 a.m. they're ready again for the huge crowds. By 9 p.m., it's SRO, full of people from miles around in addition to the ones camping here or staying in the hotel. Fortunately, Mark discovered a pool somebody had the perseverance to carve into the bedrock up on the mountainside. Same water, no people! Just a full moon and a view. So we've been sneaking up there at night and escaping the mass baptism down in the civilized pools. We did take advantage of the magic-fingered Italian masseuse in the hotel, though. Civilization isn't all bad.
To backtrack a bit, from Oregon at the end of July we headed to Idaho, where we stayed in Coeur d'Alene for a few days. It's a beautiful town, and just about everyone we met was from -- you guessed it -- California. After living for years with the news that hordes of fed-up Californians were emigrating to places like Idaho, it was interesting to observe the trend from the other side, and to hear about the challenges of starting over in a new place with a serious winter and no major employers.
Driving north from Coeur d'Alene, we discovered Fox Farm, a delightful establishment on the banks of the Pend Oreille River near Sand Point. We went swimming -- Marvin, too -- every day and enjoyed the vanilla fragrance of the huge ponderosas surrounding us. The town of Sand Point offers art galleries, book stores, coffee houses, lots more former Californians, and, in the summer, the Festival at Sand Point. We went to two concerts under the stars on the edge of Lake Pend Oreille, authentic cowboy yodeling by Riders in the Sky, and the Spokane Symphony's rendition of Beethoven's Ninth.
With a view towards getting to Calgary, we pointed ourselves east and drove through Glacier National Park. In Calgary, we visited my sister M'Liss Edwards and her family, enjoying a barbecue at her house one day and a picnic in the mountains another. She took us on a tour of the grounds of the Calgary Stampede, where she's been a volunteer for ten years. Unfortunately our timing was bad, and we missed Stampede itself by a couple of weeks. Next year...
Banff was glorious. We stayed at Tunnel Mountain and enjoyed the unparalleled gorgeousness of Lake Louise. One morning, while out for his morning constitutional, Marvin had the delightful good fortune to meet Rufus, whose human immediately recognized their kinship, mostly because they look nearly identical. So Marvin has a Canadian cousin in Vancouver, and it was love at first sniff.
As we drove north to Jasper, we stopped off at the Athabasca Glacier and took a ride up it in a super-humongo-ginormous snowmobile. It holds 50 people, weighs 25 tons, and the tires are taller than a pretty big man. Definitely an E-Ride. The rest of our drive through the Rockies was nothing short of spectacular. Lake after lake, peak after peak. Moose, bighorn sheep, bears, elk, eagles. Breathtaking, awesome, stupendous-- go there and add your own words to the list.
That brings us to Fairmont again, where Mark just discovered yet another glorious natural hot pool with a fifty-foot waterfall feeding it. Really, it's too good to be true. Azure water, perfect temperature, no chlorine. Most amazing of all, the human hordes are all cozily ensconced in the civilized pools, and we can go enjoy undisturbed paradise. What a life!