The Phoenix One Journals Stories from the dawn of RoadTrip America
Joseph, Oregon
July 30, 1994

ALL TRAILS LEAD TO OREGON, JUST LIKE BACK IN 1843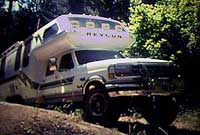 Not Oregon again, I can hear you thinking! But yes, it's true, we're back. Actually, we aren't back at all, because we're someplace we've never been before— the northeastern part of the state right next to Idaho. We're hanging out next to a gorgeous lake at the foot of some quite spectacular mountains. Marvin thinks it's absolutely fantastic, because yesterday he managed to slip off his leash and chase three mule deer about a quarter of a mile. Mark was in hot pursuit as the crowd gathered...
To catch you up on our wanderings, we spent a couple of days in Queets rain forest on the Olympic Peninsula. It's a mysterious, spongy place, full of moss and frogs and silently rotting wood. It's hard to believe it's real and now, and not a reconstructed ecosystem from some primeval age of ooze.
Emerging from the green damp, we stayed a few days in Sequim while the Phoenix got some work done on it. I left for Boston on June 29 to attend the national Mensa conference. Mark went to the Sedenquist family reunion while I was gone.
When I got back to Seattle, we visited Dusty Strings, a company that makes hammered dulcimers and Celtic harps. The dulcimers I lost in the fire were both made by Dusty Strings, and it was a pleasure to visit the shop and see all the craftsmen at work. Naturally, I couldn't leave without one, and I am now the happy owner of a beautiful new dulcimer made of Honduran mahogany.
Heading out of Seattle to the east, we drove through the mountains to Leavenworth. If you go there, you might actually believe you've been transported to Bavaria, so complete is the town's dedication to things German. Wandering past various Kris Kringl Markts and windows full of nutcrackers, we were surprised to find a gallery dedicated solely to the work of American artists, mostly local ones. If you go to Leavenworth, stop by Worldly Goods. Maybe you'll be lucky enough to talk to Doug Gogel, the owner, with whom we spent a delightful hour or two.
On Doug's advice, we explored Icicle River Canyon, and then headed north towards the Columbia River, thinking we might visit the Grand Coulee Dam. Even the elevator for tourists turned out to be worth the trip. It drops thrty-five people down the side of the dam into the powerhouse, where you can see gigantic turbines creating electricity in quantities I can't begin to comprehend.
Near the Grand Coulee, we stopped to take a look at Dry Falls, which, as the name implies, isn't wet any more. When it was, though, a zillion years ago, its cascades dwarfed Niagara, and, even without water, the cliffs are impressive.
After a brief sojourn in the Tri-Cities in Southern Washington, where Mark visited Killian Towers, the apartment development he had managed for many years, we dipped south into Oregon. In Pendleton, we spent a morning with Patrick Temple, a fourth generation native, who owns Living Heritage Tours. We were his only charges that day, so we got a private tour of the Umatilla Indian Reservation, an old grain elevator and the countryside surrounding Pendleton. In the afternoon we visited the Pendleton Woolen Mills and enjoyed another fabulous factory tour. Even the reasonable prices in their outlet store could not tempt us, however. It's hard to buy wool when eggs can fry on the sidewalk.
Patrick mentioned that Joseph, Oregon, had become an artists' colony, and was home to several bronze foundries. That, and the promise of cool mountain air, brought us here. On the way we visited the Oregon Trail Interpretive Center near Baker City. If Disneyland had Oregon Trail-land, this would be it. Whole wagon trains inside! Movies! Live music! Costumed characters! Dioramas! All this, and views of the real Oregon Trail, too.
So here we are in Joseph, where deer wander freely and Marvin's collar is a little tighter. If I knew where we were going next, I'd tell you. Stay tuned...