The Phoenix One Journals Stories from the dawn of RoadTrip America
No. 4
Lyre River, Washington
June 24, 1994

GIANT PIECES OF ICE, HUGE JETS, ENORMOUS BELLBOTTOMS, FLYING COWS -ARE WE HAVING FUN YET?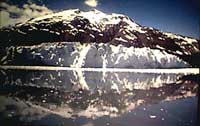 What a month! I feel like we've crammed about twenty years worth of summer vacations into it. Arriving in Seattle, we stayed for a few days with Mark's aunt and uncle, George and Betty Sedenquist, on the edge of Lake Washington. One evening, we went down to the waterfront and ate a couple of tons of clams and salmon while watching ferries come and go. A perfect rainbow arched over the harbor as we finished off our seafood feast, and it was really easy to see why so many Californians visit the Northwest and never bother to leave.
On June 3rd, we pulled our suitcases out of the Phoenix's roof pod and packed for Alaska. Marvin got to stay at a kennel, and we parked the Phoenix at a storage place near SeaTac Airport. A three-hour flight brought us to Anchorage, where we stayed overnight. Actually, night never really came, and people were fishing in the river behind our hotel until three a.m. The sun tried to set in the south, but couldn't. We closed our drapes and slept a few hours.
Have you ever been on a Love Boat? Not only had I never done such a thing, I had never even thought about doing it. But there we were, boarding the Regal Princess for a week-long cruise through the Inland Passage. The occasion was our Wisconsin friends' Tom and Maddie Rademan's twenty-fifth wedding anniversary They'd invited a group of friends to share the adventure with them, and we decided it was a terrific idea.

The Regal Princess is quite a boat, with room for 1600 passengers and a crew of 660. She's new and spectacular-looking, too, with a big dome structure on top that looks like the Enterprise has landed. If you like laps of luxury, you might want to give this ship a try. The staterooms are lovely, the food is wonderful and ubiquitous, and the choice of activities fills a four-page newsletter that they print on the ship every day. Phew. Fortunately the only mandatory event was a safety drill, so we had plenty of time to lie around and watch eagles and orcas and glaciers.
Well, okay, I admit, I was in a show the last night. I got to wear a purple tuxedo with huge bellbottoms and sequined lapels and an Afro wig and lip-synch "My Girl" with four other "Temptations." So I got the real cruise experience.
Our voyage took us to Glacier Bay, where we watched glaciers calving with muffled roars under brilliant sunny skies filled with flocks of terns. Skagway, Juneau and Ketchikan were our ports of call before we disembarked in Vancouver. Good weather stayed with us the whole week, although we used umbrellas against the drizzle as we explored Creek Street in Ketchikan, and marveled at a city built on stilts above water and vertical rock.
Alaska was the first place we've been that I'd never visited before, and, from what I've seen so far, I am enthralled. We're heading back by land in July, and the Phoenix will finally have to perform under the conditions it was built for. I guess we'll find out whether we're built for them, too.
Back in Seattle, we had the pleasure of visiting two manufacturing firms. The first was Chasley, Inc. Chasley makes innovative juggling toys. Nobody has to be satisfied with plain old balls any more, when they can toss cows, pigs, penguins, fireflies, planets, vegetables, and orcas, among other remarkable choices. We had sold Chasley products through Wizards of Wonder, and enjoyed visiting the factory and meeting Charlie & Barb Brister and their staff, the creative people behind these delightful toys.
The other company we visited was Boeing. The Everett plant is where 747's, 767's, and the brand-spanking new 777's are made. The buildings there are as big as some towns, and the scale of the whole operation is staggering. Except for the size difference, we found the two plants to be remarkably similar, efficient assembly lines building wondrous things.
Right now we're in Lyre River, Washington, on the Olympic Peninsula. I can't imagine a more idyllic place. The river, perfect for inner tubing, runs right by our campsite down to the sea, a hundred yards away, where every rock on the agate beach is worth picking up. I can't even describe the sunsets. And the trees. And the ferns. We were planning to stay here overnight, but three days have slipped by. Aaahh.
ON A ROLL...
What are we doing? What is the mission of the Phoenix One? After eighty-eight days, perhaps we have a working outline. A few days ago, Meg and I watched a National Geographic TV program about the successful attempt of two high-altitude balloonists to perform the first flight over the top of Mt. Everest. There was no particularly valid scientific or economic reason for mounting such a daring and costly expedition, rather they did it simply because they believed it could be done.
We want to explore, first hand, the wealth of earth wisdom and human experience as the Phoenix One transverses a route bounded by the Arctic circle and Panama. The Quest is known, the ways and means for this journey are a day by day discovery.
I finished a book yesterday that I found to be enthralling. It was The Popcorn Report by Faith Popcorn. If you get a chance to read it, I would like your thoughts and responses to it. Drop me a card.
The interactions with the amazing people and wondrous sights that we have experienced thus far on this journey are evidence of the richness of this quest. Choosing to live a different life style is fraught with challenges, learning experiences and, of course, fun. While it is unlikely that anyone would confuse me with a mechanic, (given my predisposition toward non-mechanical pursuits), the realities of operating a 6x4 off-road vehicle have encouraged some education in these matters.
In a matter of days the performance of the Phoenix will be improved with the installation of Bilstein shock absorbers, custom-built sway bars and other performance enhancements under the direction of Eric Davis in Sequim, Washington. I have also received valuable insights and technical assistance from Tom Emge at Fairway Ford in Placentia, CA, Bob Griffiths at Hi-Tech Off-Road in Las Vegas, the Crew at Y-Ruff-it RV in Reno, Jerome Olivarez at Crown Auto Detail in Auburn, WA, Kenneth Dubbs at Magellan Systems in San Dimas, CA, and Dan Swaney at Tveten RV in Tacoma. Next month we will return to the land of the Midnight Sun which should prove to be an interesting adventure in the continuing saga of the Phoenix One.
Driving a vehicle as unique and special as the Phoenix One enables us to meet a diverse group of new friends. On a slow day, we speak to eight to ten new people who approach us with questions about the vehicle. Some of these chance meetings last only a few moments, while others have stretched into extended conversations. A special howdy to those new friends we have met since last month: Sheree & Adrian McCluskey, Chaney & Loreeta Henderson, James Keyser, Thomas & Wendy Dow Miller, Lynda & Jack Wheeler, Jim & Val Allen, John Wilson, Eric Davis, Alan Brown, Douglas Decker, Mike Greene, Charles & Frances Kachadoorian, Ernest & Jennifer Kincaid, Craig Smith & Susan Howson. Also a special thank you for a wonderful meal and fellowship to Mary Mueller, Barb & Charlie Brister, Donna & Dan Dansenburg and Marie & Bob Bragg. And to the rest of you, thanks for your support and friendship!!!