The Phoenix One Journals Stories from the dawn of RoadTrip America
Beverly Beach, Oregon
May 26, 1994

SO HERE'S WHAT WE'VE BEEN DOING...
I am sitting here in the back room of the Phoenix One, which, if you've seen the vehicle, you know also serves as dressing room, guest room, washroom, wardrobe and library. Right now it's the office, and I'm looking out at the Oregon coast near Newport -- Beverly Beach, to be exact. In the month that's elapsed since last time we wrote, the views from this window have included Yosemite, Sequoia, Fresno, Yorba Linda, Anaheim, Pasadena, Puddingstone Reservoir, Las Vegas, Death Valley, Bristlecone Forest, Bishop, Virginia City, Reno, Red Bluff, Lassen National Park, Arcata, Redwood National Park, Lost Creek Lake, Crater Lake, the Rogue River, Tumalo State Park and Corvallis, Oregon.
Wait! I hear you cry. Yosemite, Sequoia -- even Fresno makes sense. But what's this about Yorba Linda and Pasadena? What's going on? Well, okay. We did circle back to have some finishing touches put on the Phoenix. We now have an exhaust system that's the envy of every high school boy we meet. It's improved our performance and mileage, but I think Mark also enjoys the sound it makes. As though we weren't making enough of a statement before. With that and a few other adjustments, we left Southern California again, and this time we're really gone. No more southward trajectory until summer's over. We'll be sticking with north and east, unless of course we change our minds. Don't much like being locked in, if you know what I mean.
Our trip has been nearly flawless, although we did get caught in a snowstorm going into Yosemite. Four wheel drive helped, but the snow kept piling up. We slid into a bank at one point, which was a whole lot better than sliding off a cliff, but I'm not keen on sliding in any direction. But of course Yosemite was worth the white-knuckle moments, with dogwoods blooming everywhere and the falls at their peak. We hit Fresno afterwards, and immediately decided to head for the hills again. Fresno can do that to you. Sequoia was still ensconced in snow, too, but the skies were clear, the air was warm, and we had all those wonderful, huge old trees practically to ourselves.
Las Vegas was a big switch from all the mountain scenery. We checked out the new super-double-duper hotels like the Luxor and the MGM Grand, but, frankly, I'd take Vernal Falls and the General Grant tree any day. Still, for manmade wonders they are quite something -- have you seen that naval battle diorama in front of Treasure Island? -- and we did get a great deal on a prime rib dinner. Also, Mark won enough quarters for us to do our laundry.
Death Valley was hot and spectacular, the perfect venue for Mark to celebrate his fortieth birthday. While we were there, we read a book about the Jayhawkers, a '49er group from Illinois that got bad directions and ended up in Furnace Creek instead of the gold fields. Most of them eventually made it to Southern California, but the story of their Death Valley ordeal is quite something. Even in May, the temperatures rose enough to melt the undercoating on the Phoenix and cause it to drip. We kept our own undercoatings intact by sightseeing at dawn and going swimming at midday.
From Death Valley we headed to Bishop by way of the Bristlecone Forest in the White Mountains. This is another forbidding and desiccated place, but the views of the snow-capped Sierras were wonderful. We took off on a couple of dirt roads, to see how the Phoenix would handle. It's not exactly a Jeep, though, and our height can be limiting. We didn't think it'd be a good idea to saw branches off some three-thousand-year-old tree, so we didn't get too far.
Bishop, the watering hole for all California mountaineers, provided us with a nice place to stay and some fabulous beef jerky, which we inhaled, even though I know you're supposed to chew it. It's just that it's SO GOOD.
Our next stop was Virginia City, Nevada, where we spent a memorable evening in the Bucket of Blood Saloon, watching some magnificent thunderheads roll across the sky. After that, we headed to Reno, where we saw friends and ended up staying over because our air suspension system blew a valve. Federal Express sped a part to us, and some very clever RV repair technicians had us running right in a day.
We paused next at Red Bluff, CA, where we found an enchanting little park on the Sacramento River. A large, hideous and aggressive Muscovy duck stalked Marvin, intimidated him, and ate his food. He wasn't sorry to leave.
Speaking of Marvin, he's chalked up his first recorded kill. A little ground squirrel somehow made a wrong turn into his mouth, and Marvin bit down at just the right moment. Despite Mark's best efforts to get him to drop it, Marvin finished the little fellow off with a couple more chomps. So even a creature as domesticated as Marvin still has some primitive instincts in him. Watch out, unless you're a Muscovy duck.
From Red Bluff, we headed west and came to Susanville. We accomplished two great things in this town: Mark renewed his driver's license and I got my modem to work with the cellular phone. The driver's license renewal was incredible because it took— FIVE MINUTES!! So here's some advice, Angelenos. Next time you have to go to the DMV, go to Susanville! Even with the extra drive, you'll be done sooner!
The modem thing was even more incredible. I'd been trying to figure out how to make it work for weeks, and the owner of an electronics shop put his mind to the problem, told me a few facts about modems, and VOILA! The next time I tried to log on, IT WORKED!! So now our office is truly and utterly mobile!
A wonderful drive through the redwoods the next day brought us to the Oregon border, and we felt we'd passed a major milestone as we left California, as though now we were REALLY away. Oregon has absolutely splendid state parks. The first one we encountered was Joseph Stewart State Park south of Crater Lake. The campground is on the edge of a gorgeous large lake, and wildflowers were blooming everywhere. The weather could not have been more perfect, and there weren't even any bugs. I kept trying to find the drawback of this place, but it just wasn't there. Stewart State Park is perfect— that's all there is to it.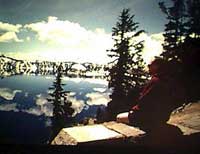 Nonetheless, for true and utter majesty and every other royal superlative, Crater Lake is IT. I'd been there before, but it didn't matter. I still couldn't believe it was real. If you haven't already been there yourself, you'll just have to go, and then you'll know what I mean. It's so magnificent that you want to scream. But you don't, because the beauty of it awes you into silence. No one even speaks in a loud voice when they're near it. The Indians said Crater Lake was a holy place, and they knew what they were talking about. We took pictures, and they came out beautifully, but this is a place to experience for real. Go there, and if you've been, go back.
We spent a couple of balmy days in Corvallis with my sister. It's easy to see why so many city people want to move there -- it's got rhododendrons AND great coffee. Hard to beat, although I know it's not always sunny and seventy. That about brings us up to date.
I know I said last time that this lifestyle was taking some getting used to. Well, we've gotten used to it, and we love it. It's wonderful. We'll let you know next time if the feeling turns out to be as fleeting as sunshine in Corvallis.