The Phoenix One Journals Stories from the dawn of RoadTrip America
February 29, 1996
Harmony, California

CRUISING AMERICA, SURFING THE WEB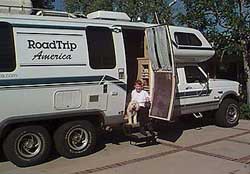 It's hard to believe that this is issue nuber 24 of the Phoenix One Journal. It means it's been two years and 55,020 miles since we first hit the road. Yikes! Have we really lived happily for that long without owning a dishwasher? Anniversaries can make you stop and marvel.
While we sojourned in Southern California, enjoying the company of family and friends and wondering what to do next, one thing became utterly clear. We weren't ready to stop traveling. We've been around a thousand bends, but we've still got a yen to find out what lies beyond the next one. So, after threemonths of relatively stationary existence, we're on the road again.
We're in Harmony, California, population 18. It's a charming historic hamlet on Highway 1 just north of San Luis Obispo. The postmistress still hand stamps the mail here, and it's a popular place to mail wedding invitations. It seems like the perfect place to mail the Phoenix One Journal, too.
Last month at this time, we were in Pasadena, and we had a thousand unanswered questions about how to make use of the year that stretched ahead. We thought about how to reinvent our retail business, how to organize our writing projects, how to find a way to finance our life on the road. A labyrinth of possibilities lay open to us, and we seemed to keep choosing passageways that didn't seem to go anywhere. Where's a ball of string when you need it?
But of course the passageways did go somewhere. One thing always leads to another. Our way was circuitous, but we have at last embarked on a new project. Somewhere in the maze, our paths crossed those of Bill, Melissa, and Tom Paule, whose company, Intelligent Information Innovations, creates, designs and maintains sites on the Internet's World Wide Web. Together, we have embarked on an electronic publishing project, RoadTrip America.
RoadTrip America is an online magazine that will feature the people we meet, the places we visit, and the events we attend as we travel the continent. Using a digital camera and our trusty laptop computer, we'll be updating the site every day. Anyone with access to the Internet will be able to follow the adventures of the Phoenix One. RoadTrip America will debut around the beginning of April. Right now you can visit the site for a preview at https://www.roadtripamerica.com.
In the last two years, we've gathered a long list of places to visit, but we are always eager for ideas. If you know about an unusual person, a terrific place to eat, a marvelous music festival, a fabulous fair, an outstanding-- well, you get the drift. We'd really appreciate suggestions!
If you've had the chance to "surf" the World Wide Web, you know that many companies have established sites. Since the format of the Web offers the broadcast capability of television in addition to all the benefits of print media, it is an ideal way to disseminate product information. Online ordering is rapidly gaining in popularity, too.
RoadTrip America, like a magazine or television show, is seeking sponsors and commercial advertisers who will benefit from its appeal by drawing visitors to their own sites through "spots" and "links." If you or anyone you know is interested in more information about sponsorship or advertising in this rapidly-expanding marketplace, please let us know.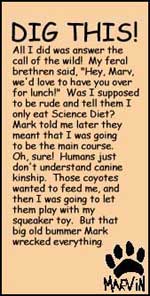 In addition to publishing RoadTrip America, we are now representatives for the services offered by our Webmasters at Intelligent Information Innovations. InCubed is a full-service company offering development, design, hosting, promotion, maintenance and consulting. If you know anyone interested in establishing a site on the World Wide Web, we'd be happy to provide more information.
It's ironic that the phenomenon that is allowing us to explore the byways of America, far away from the bustle of cities, is one that is often blamed for taking us away from nature. In our adventures on the road, we've found that the more telecommunications improve, the more we can be truly "out there," with little need for contiguous civilization. By setting up an office in cyberspace, we have the freedom to be away without sacrificing connection.
The best part of our journey is always the people. This month we've had the pleasure of meeting Jim and Kay Lawrence, who own the town of Harmony, and their Realtor, Peggy Payne. We've also enjoyed crossing paths with George & Gerda Enyedi, Joal Ryan, Ken McLane, Robert Navares, Kim & Chuck Mulligan, and Scott & Shanna Burkholder.
We've spent several days within view of that giant monolith, Morro Rock, and explored the beaches of Morro Bay. Marvin has especially enjoyed running on the sand and chasing sea gulls. Rainstorms have come and gone spectacularly, and there was a ring around the moon last night. This is indeed the life!