The Phoenix One Journals Stories from the dawn of RoadTrip America
January 31, 1996
Pasadena, California

OFF THE ROAD AGAIN... (BUT NOT FOR LONG!)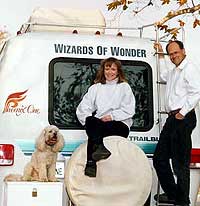 January is supposed to be a month of resolution, but for the Phoenix One trio, it's leaving us in a haze. We've had no trouble deciding which way to turn at a thousand junctions over the last twenty-two months, but now we seem to have reached a corner with no road sign.
It would be easy to say, "Hey, take the road less traveled. It's supposed to make all the difference." But what happens when there are no roads at all in sight? Should we get out our machetes and start blazing a trail? As we try to peer ahead into the jungle in front of us, we've spent a little time looking back at the path that brought us here. It's been a remarkable two years.
Mark's titles have included, among other things, Barn Chief, Pilot, Explorer, Watermelon Picker, Lighting Rod, Ranger, Rockhound, Swamp Thing, Mission Control, Wizard, Cowbait, Roadman, Driver, Snowman, Correspondent, Soaker, Bean Counter, Logistician, and Business Manager. Megan can now list experience as Entomological Surgeon, Navigator, Dulcimer Picker, Berry Picker, Railrider, 'Squito Lunch, Space Cadet, Stargazer, Dreamer, Cybercruiser, Super Soaker, Bean Cooker, Visionary, and Barn Gopher in her CV.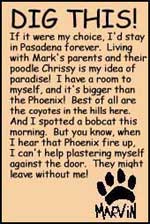 Not to be outdone, Marvin's accumulated quite a resume, too: Bombardier, Barker, Goat Charmer, Deerslayer, Rhinestone Cowdog, Croc Spotter, Moon Crooner, Burr Dog, Bird Dog, Snow Hound, Moondoggie, Squirt, Security Chief, Exercise Coordinator, and his still unchallenged title of Fastest Tongue in the West.
We haven't even mentioned a host of other skills our travels have taught us. Mark's superb at changing flat tires anywhere. Megan can make a modem work on any kind of telephone known to man. We've mastered the curriculum of the road, but what do we do with a degree in adventure?
Marvin would say, "Stop, already! Houses are great inventions! Backyards are even better. Can't we just stay in one place and take the same walks every day? I really like sniffing familiar spots."
Well, Marvin, so do we. It's been a pleasure to spend time with family and friends over the last few weeks. We've broken bread with Diana Sedenquist, Bill Evans, Marge & Jim Laris, Colleen Clark, Mary Sikora, Charlie Brister, Dave & Phyllis Goddard, Susan Lee & Gordon Reetz, Esler & Caroline Johnson, Manny Mendoza, Alexandra Edwards & Bryant Duffy, Robin, Jay, Patrick & Morgan Reidy, Manuella, Antoine, Gabriella & Alex Laussu, and celebrated two family birthdays, Spencer Edwards' and Margaret Sedenquist's. It's been wonderful to cross paths with Jim Thomson, Dan Denton, Robin Salzer, Mark Juhas, Bob Wooley, Bruce Lloyd, Max Colclasure, Gary & Jean Bottemer, Shannon & Beverly Pluim, Pat Russell, Steve & Heather Schultz, Anne & Gene Coffman, Tom Blum, Susan & Dick Ratliffe, John & Jamie Sedenquist, Tasha & Richard Snyder, Bill Zack, Erin Noonan, Donna Giuliano and Florence Helmberger. Without a visit to Larry, Michael and the Staff at Pasadena Print Stop, you wouldn't be reading this newsletter. Thanks!
Amid the social whirl, we've also been exploring ways to develop our retail business, Wizards of Wonder. We're considering the fair circuit, mail order, and electronic publishing as ways to combine our peripatetic lifestyle with the world of commerce.
It would have been a shame to ignore the glory of Hollywood during our sojourn in the area. Megan decided to lay her ego on the chopping block and try out to be a contestant on Jeopardy. This involved going to Sony Pictures in Culver City and taking a daunting written test. Miraculously, she passed, which means that sometime within the next year, she has about one chance in twenty of humiliating herself on national television. Mark got the better end of the deal. He met Sean Connery while he was waiting.
So where do we go from here? It's difficult to answer a destination question when the point of the journey has always been the process. It's been a change to pause in one place for longer than a week or two. One thing we've learned, though, is that no matter how stationary we think we are, we're always moving. The adventure never stops. No wheels are necessary for the most amazing trip of all, life itself.
Even so, our feet are itching. We're humming "On the Road Again" and "Born to be Wild." There are places to go, people to meet, stories to tell. And of course, a few tires to change.
The first issue of the Phoenix One Journal was mailed on March 20, 1994. It was an invitation to the kick-off party marking our departure from Pasadena. Issue Number 2 was published on the road from the gold country town of Columbia, California. We sent it to 87 friends and family members. Tomorrow, we'll be sending Number 23 to the 689 friends we've made in the intervening 21 months. You live in all fifty states and several foreign countries. You have enriched our lives beyond measure.
If you have any thoughts for us, whether logistical or inspirational, practical or frivolous, we'd love to hear them. We're grateful for the gifts of stamps and money you've sent. They've helped greatly to underwrite the cost of publishing the Phoenix One Journal.