The Phoenix One Journals Stories from the dawn of RoadTrip America
January 4, 1996
The Rose Bowl, Pasadena, California

LIFE ON A BED OF ROSES
It wasn't until an earthquake nearly bounced us into the ocean off Highway 101 north of Santa Barbara that we felt truly back in California. We were headed south, back to the city that gave the Phoenix One birth, Pasadena.
Pasadena is famous for lots of things, but wherever we travel, there are only three things anybody ever asks about, the Rose Bowl, the Rose Parade, and the little old lady. We were back to help keep one of these traditions alive. We were back so Mark could put on his white suit and do his part to make Rose Parade number 107 an extravaganza to remember.
Before Mark could totally immerse himself in Tournament of Roses duties, he had to get one of his teeth fixed. He was lucky to be in Pasadena, where he could visit his own dentist, Sam Contino, who resculpted his tooth with a space-age composite and bonded it with blue light. No shots! No pain!
Mouth in order, Mark was ready for action. As a Tournament member, he is one of a cast of close to a thousand volunteers that creates the parade and game. They take time all year from their real lives to perform all the jobs necessary to move a procession of sixty huge floats, 22 bands of up to 400 members each, and a full complement of equestrian units and dignitaries down a five-and-a-half-mile parade route. Thirty-eight committees oversee everything from selecting the Rose Queen and judging the floats to parking and trash collection.
Mark has been a member of the Tournament for ten years. During that time, he has done everything from overseeing float construction to serving coffee and doughnuts to visiting VIPs. This year, Mark was assigned to the "Decorating Places" committee, chaired by Es Johnson. While the floats are constructed in permanent structures, the Tournament erects one enormous tent known as the Brookside Barn on the west side of the Rose Bowl five weeks before the parade to allow more space for final decoration. Mark, his co-chief Tom Behny, and the committee were responsible for setting up and managing the tent and the surrounding enclosure where twelve floats, five different float-building companies, thousands of volunteers and visitors, and millions of fresh flowers coexist from December 21 until parade day.
An operation of this magnitude takes an army of professionals to create, including truckers, electricians, caterers, plumbers, fence builders, sound and communication specialists, phone technicians, float builders, tent providers, disposal engineers, security guards, fire marshals, television personalities, and newspaper reporters. We were privileged to get to know a few members of this remarkable team: Jonathan Orona, Mario Escobar, Loyd Mayes, Art Carlos, Nacho Islas, Dennis Midyett, Peter & Cindy Arutunian, Gene Dent, Adrian Mathies, Larry Crain, Bob Senseman, and Rick Parra. It would be impossible to list all our friends in the Tournament, but a few members we worked closely with this year are: Joe & John Delgatto, Scott Huntley, Art Holmes, John Reitnouer, Massad Joseph, Nancy Davidson, Janet Whaley, Paul Nauert, Tom Cassidy, Peggy Vaccaro, Jim Stivers, and Roger Keith.
Before Brookside required his full attention, we spent a week house-sitting in Altadena at the beautiful home of Catherine, Stephen and Jessica Bornfeld. We fell in love with Roy and Howard, their two cats, and Doug, their affectionate golden retriever. When the Bornfelds returned home, it was time to take up residence at the Rose Bowl.
Thanks to the skill of Wayne Bovi at Pasadena Sign Studios, the Phoenix had a nice new look when we moved to Brookside. New lettering reads "Phoenix One" on the front and "Wizards of Wonder" on the back.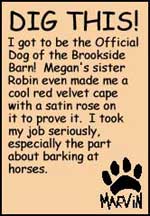 Even though we were immediately ensconced in Rose Parade activities, we managed to take time out for a wonderful Christmas celebration. Both of our families gathered at Mark's parents' home for a splendid repast. We rounded out the evening with Spite and Malice, a rowdy game that requires seven decks of cards and a ruthless attitude.
Living inside the Brookside enclosure for two weeks has been hectic, fascinating, tiring, and fun. Walking among acres of roses and orchids, watching works of art emerge out of onion seeds, lentils, pistachio shells and white glue, we marveled daily at the ingenuity and craft of the designers and their teams of volunteers. Every visible inch of every float must be covered with natural, organic material. Nothing can be fake or dyed, and designers search for plants and flowers all over the world to achieve the effects they want. Professionally built Rose Parade floats cost anywhere from $65,000 to $300,000.
Armed with a cellular phone, a hard hat, and a two-way radio, Mark was able to "be" several places at once and do his part to keep things progressing smoothly until the climactic moment when the floats rolled out on New Year's Eve. In spite of a wind storm, all twelve floats departed from Brookside on schedule and made it to the end of the parade without incident.
The last float had barely cleared the canopy when sweepers arrived to clean the space for the Guest Luncheon committee. Caterers arrived with potted plants, tables, and chairs. At noon the next day, hundreds of visiting VIPs sat down to an elaborate luncheon after the parade. Now, the task of the hour is the dismantling of the tent and the restoration of Lot K to its mundane role of parking lot. At the moment, only half of Brookside Barn is still standing, and a few buckets of bedraggled chrysanthemums are all that remain of its former floral glory.
Yes, we did watch the parade on a glorious New Year's morning, and we cheered heartily for "our" floats. After a tailgate lunch back at the Phoenix, we watched U.S.C. edge out Northwestern from great seats in the Rose Bowl.
Like us, the big tent is preparing to go back on the road, but, unlike us, it probably has a destination. We continue to be content with the process, especially because it means meeting so many new friends. A few who joined us this month include Dan Sullivan, Kim Babineau, Carolyn Peterson, Florence Cole Helmberger, Don Bulen, Peter, Kenneth & Marilyn, Gonja Wolf, Laura & Looris Troyer, Skip Josenhans, Marty Riley, Pat Dolphin, Bruce Toomer, Mark Zuleski, Larry & Cindy Gobin, Bunnie Miller, Mark Castro, Ann & Karen Mitchell, Bruce Kristinson, Neal Salisian, Helga Weidekat, Bob Hyde, Ed & Hope Bacon, Daniel Ginzburg, Manuella Laussu, Michael Deak, Anne Peterson, Edith Lopez, Mac Ross, and Bill Walleck. Happy New Year!